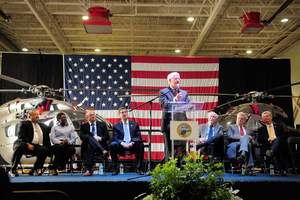 Mississippians rallied in Columbus, Miss., for the UH-72A Lakota helicopter program. Pictured from left are Joe Max Higgins, CEO of Golden Triangle Development LINK, Gloria Ervin, Navy veteran and American Eurocopter human resources assistant, Marc Paganini, President and CEO American Eurocopter, Rep. Gregg Harper, Sen. Roger Wicker, speaking, Sean O'Keefe, Chairman and CEO EADS North America, Rep. Alan Nunnelee and Mississippi Governor Phil Bryant.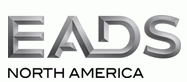 COLUMBUS, MS -- (Marketwired) -- 05/30/13 -- Mississippi Gov. Phil Bryant, U.S. Sen. Roger Wicker, U.S. Rep. Gregg Harper and U.S. Rep. Alan Nunnelee joined leaders of EADS North America and American Eurocopter at a rally Thursday to call on Congress to restore funding for the Army's UH-72A Lakota helicopter in the Fiscal Year 2014 budget.

The rally took place at EADS North America's American Eurocopter facility in Columbus, Miss., where the Lakota is produced for use in a wide range of roles by the Army, Army National Guard and Navy. With a unit cost of just $5.5M, the Lakota has been cited by the U.S. Department of Defense as a model defense acquisition program and is one of the most successful, cost-effective rotary wing aircraft procurement programs in history.

Proposed cuts in the 2014 budget submitted to Congress in April would reduce production of the Lakota in 2014-2015 by 31 fewer aircraft than the Army planned to buy. These cuts, which would result in negligible savings, would effectively end Lakota production by the end of 2014 and endanger the jobs of many of the more than 300 Columbus employees, more than half of whom are U.S. military veterans.

"As the Governor of Mississippi and Commander-in-Chief of the Mississippi Army National Guard, I firmly believe this proposal was made hastily during a time when our country is in dire financial crisis," Gov. Bryant said at a rally at the American Eurocopter plant in Columbus. "I understand cuts must be made to alleviate some of the strain on the national debt, but it is counterproductive for the Department of Defense to cancel this cost-effective, successful program. Every helicopter produced here has been delivered on time and on budget."

"The program has proven invaluable to our national security, and the multi-mission capabilities offered by the Lakota only increase the demand for them around the country," Bryant said.

"American Eurocopter is an American success story that demonstrates Mississippi as a premier destination for high-tech manufacturing," said Wicker, a senior member of the Senate Armed Services Committee. "Budget constraints in Washington have led to reductions in defense spending. However, I believe those cuts should be focused on wasteful spending and not on programs like the Lakota that are vital to national security."

"At a time when the Department of Defense has hard spending choices to make, a program like the Lakota should be the last one singled out for reduction," Rep. Harper said. "The Lakota has the lowest cost to buy, own or operate of any military helicopter in production."