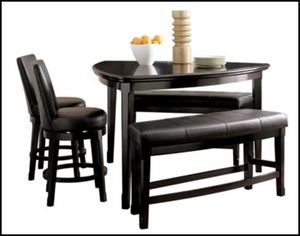 Emory Counter Height Dining Table



ARCADIA, WI -- (Marketwired) -- 05/03/13 -- With Cinco de Mayo almost upon us, you could go "loco" trying to come up with budget-friendly designs for your celebration. While it may be tempting just to give in and head to the local party store, you could actually come up with far-more budget friendly, tasteful and fun ideas with items you may already have.

"When it comes to decorating, especially for a festive, fun occasion like Cinco de Mayo, sometimes you just have to think outside the box," says Brenda Dillon, VP of Merchandising. "Anything goes! So give yourself a little creative license and just have some fun with it."

Ashley Furniture HomeStore offers five out-of-the-box party ideas that are sure to be the talk of your fiesta:

1. Festive margarita bar. Break out the blender and get ready for what will surely be the highlight of your party! Just line your home bar, living room server or cart with a colorful table cloth (which you can fold to fit as needed.) Any vibrant hues will work for your table cloth (e.g. yellow, red, orange, green, bright pink, light blue, etc.) You can spend money on some sour mix or make some from scratch pretty easily (there are a ton of recipes on the internet that require just some basic juices and sugar). Set out the sour mix along with some tequila, an ice bucket, limes, salt and a few rimming dishes for those who prefer their margaritas with a salted rim. All you need now is a blender and a cocktail mixer for margaritas "on the rocks." Have guests shake or blend their own cocktail or grab a volunteer to play bartender for the night. If you don't have margarita glasses, don't worry. Martini glasses will work, as will standard cocktail glasses, tumblers, colorful outdoor plastic cups or anything else you can find around the house. After you have all of that, stick some colorful flowers from outside into terra cotta pots or use clean jalapeno cans, refried bean cans, beer bottles or salsa jars (keep the labels on!) and you have a festive little decoration for your bar.

2. Unique table décor. Since it's Cinco de Mayo, you'll likely be serving up some Mexican favorites (e.g. chips and salsa, bean dip, tacos, etc.). Once you've decided which table you'll be using for your delicious display, it's time to make it look festive! Again, a colorful table cloth is in order if you choose the dining room or kitchen table. Top it off with a colorful table runner for an extra splash of color. If you're using a kitchen island, drape a table runner across it. For the centerpiece, break out some clear glass vases or hurricane vases, and fill them with red, yellow and green chili peppers. If you don't have any real peppers, you can fill them with whole lemons and limes. Rather than using a standard chip bowl, line the middle of a sombrero with some plastic wrap and place a small bowl of salsa inside; spread chips around the brim of the hat. You can also use festive flower arrangements (see #1).