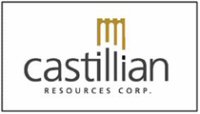 TORONTO, ONTARIO -- (Marketwired) -- 05/03/13 -- Castillian Resources Corp. ("Castillian") (TSX VENTURE: CT)(OTCQX: CTIIF) and Ridgemont Iron Ore Corp. ("Ridgemont") (TSX VENTURE: RDG)(OTCQX: RIOOF) have signed a definitive arrangement agreement (the "Agreement") pursuant to which Castillian will acquire all of the outstanding shares of Ridgemont by way of a plan of arrangement under the Business Corporations Act (British Columbia) (the "Transaction").

The Agreement contains the principal terms and conditions set out in the binding letter of intent (the "Letter of Intent") between Castillian and Ridgemont (see news release dated April 11, 2013) and other customary terms and conditions, except Mr. Brian Penney, President and CEO of Ridgemont, has agreed to waive any severance payments that could be triggered by the Transaction in consideration for Castillian agreeing to increase the consideration under the Transaction to shareholders of Ridgemont from 0.574 to 0.593 of a Castillian common share for each common share of Ridgemont held. The board of directors of each company has unanimously approved the Transaction. Upon completion of the Transaction, existing Castillian and Ridgemont shareholders will own approximately 57.8% and 42.2% of the combined company, respectively, on a basic shares outstanding basis (assuming the issuance by Castillian of (a) 8,000,000 common shares to Ryan Gold Corp. to repurchase Ryan Gold's 10% interest in the Hope Brook gold project (see news release dated February 6, 2013) and (b) the Severance Shares (as defined below)).

Based on the 20-day volume weighted average price ("VWAP") of Castillian's common shares on the TSX Venture Exchange (the "TSXV") of $0.0590 and the 20-day VWAP of Ridgemont's common shares on the TSXV of $0.0209, each as of April 10, 2013 (the last trading day prior to the announcement of the Letter of Intent), the Transaction represents a premium of approximately 67% to Ridgemont (based on the increased exchange ratio of 0.593). On April 10, 2013, the closing prices of the Castillian common shares and the Ridgemont common shares were $0.05 and $0.025, respectively.

Highlights of the Transaction:


--  The merger will result in an advanced stage gold exploration company    with a stronger balance sheet focused on Castillian's Hope Brook project    in Newfoundland;--  Flow through commitments from Ridgemont's balance sheet will be used to    fund 5,100 meters of additional diamond drilling, designed to expand the    existing mineral resource and conduct technical and engineering work    required for a preliminary economic assessment (PEA) at the Hope Brook    project;--  Based on the results of this work, the merged entity anticipates being    in a position to deliver a Hope Brook PEA by early 2014;--  Hope Brook has significant indicated and inferred mineral resources in a    politically favourable jurisdiction with strong upside potential and    access to existing infrastructure; and--  The proposed share exchange ratio provides Ridgemont shareholders with a    42.2% ownership stake in an asset with strong potential.
Management and Directors: