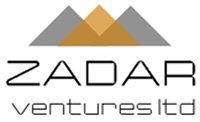 VANCOUVER, BRITISH COLUMBIA -- (Marketwired) -- 05/29/13 -- Zadar Ventures Ltd. (TSX VENTURE: ZAD)(FRANKFURT: ZAV) (the "Company") is pleased to announce it has entered into an option agreement with Canterra Minerals Corporation ("Canterra") and Triex Minerals Corp. ("Triex"), a wholly owned subsidiary of Canterra, whereby Zadar has the option to purchase all of the Canterra/Triex interests in 5 significant and strategically located uranium projects, including over $15 million in exploration data, covering 67,561 hectares (166,946 acres), in the Athabasca Basin (Figure 1). The Company will pay $50,000 in cash payments and issue 2 million common shares. Canterra will also retain a 2% NSR on each project with a buyback of 1% for $1 million per project.

Four of the projects (Pasfield Lake, Stony Road, Riverlake, Highrock) lie in the eastern Athabasca Basin, which has proven to be the most prolific and productive area, to date, for uranium mines and discoveries (Figure 1). This area contains the Key Lake, McArthur River, Cigar Lake and Millenium uranium mines as well as the Roughrider uranium deposit discovered by Hathor Exploration Ltd. and sold to Rio Tinto for $654 million in 2012. The five Canterra/Triex projects augment Zadar's Upper Poulton project (see News Release of April 9, 2013) and will give Zadar exposure to a variety of geological settings with high discovery potential. The fifth project (West Carswell) is situated 13 km west of the past producing Cluff Lake uranium mine (62.5 million lbs. U3O8 during its successful 22 years of operation). The West Carswell project is also located 11 kms NW of the Shea Creek project described on the UEX Corp. website as "... the largest undeveloped uranium resource in the Athabasca Basin. It also ranks as the third largest uranium resource in the Basin, exceeded in size only by McArthur River and Cigar Lake." This project significantly enhances Zadar's strategic land holdings in this area of the Athabasca Basin. Its PNE/BullRun project is situated 10 km north of the Patterson Lake South uranium discovery of Alpha Minerals and Fission Energy, and directly adjoins the Patterson Lake North project (Fission Energy/Azincourt Resources).

The Pasfield project (37,445 hectares) is situated on the Pasfield Structure (possibly an astrobleme and similar to the Cluff Lake Structure) and astride the Cable Bay shear zone ("CBSZ"). Exploration has identified important indications of the presence of uranium-bearing hydrothermal fluids along the fault that forms the eastern arm of the CBSZ. Further drilling is required to adequately test for uranium mineralization in this structurally complex area, especially where shallow basement (300-500 metres) is indicated by geophysical surveys. The property is a large and compelling exploration target encompassing a major basement uplift feature, with at least 600 metres of vertical displacement relative to regional basement depths. It is located on a major regional shear zone, with strong surface geochemical anomalies and strongly altered and radioactive rocks discovered in drill core, and coincident with the eastern and western "arms" of the "CBSZ". Exploration by Triex comprised lake sediment sampling, soil and biogeochemical sampling, airborne electromagnetic and gravity surveys, and diamond drilling. Soil and bio-geochemical surveys identified a robust multi-element anomaly with significantly elevated uranium values accompanied by elevated levels of boron, lead, molybdenum, vanadium and arsenic, the five key pathfinder elements associated with alteration halos above unconformity-type uranium deposits in the Athabasca Basin. Reconnaissance drilling identified the presence of significant alteration features indicative of proximity to uranium ore-bodies. Pervasive bleaching was present in basement rocks at the unconformity in all holes. Other features intersected in individual holes included intensely clay-altered granitic gneiss, hematite-filled breccia in basement granite gneiss, + 300 metres of graphitic garnet-mica metapelitic gneiss, strongly graphitic fracture zones, and weak but extensive clay alteration of the sandstone. Two zones with increased radioactivity and elevated uranium, boron and other key pathfinder elements were identified; one at the unconformity and another 800 metres above the unconformity.