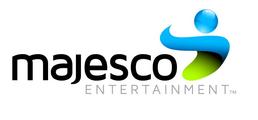 EDISON, NJ -- (Marketwired) -- 05/28/13 -- Majesco Entertainment Company (NASDAQ: COOL), publisher of the Zumba® Fitness video game franchise that has now sold more than nine million copies worldwide, announced today that Zumba® Fitness World Party is expected to launch this October on Kinect™ for Xbox 360®, Wii™ U and Wii™, and later this year on Xbox One, the all-in-one games and entertainment system from Microsoft. Immerse yourself in the movement and music of exotic global destinations in this culturally-rich fitness experience that brings the corners of the Earth into your living room!

This vibrant fitness journey kicks off with the World Party teaser trailer followed by the Brazil destination trailer that marks the first stop in the Passport to Party program. Every month Majesco will release a new destination trailer that gives players a sneak peek of where Zumba will take their in-game workout. Fans who register for their virtual passport on zumbafitnessgame.com get access to a $10 discount coupon off the game exclusively from GameStop along with behind-the-scenes content and multiple entries in the World Party Sweepstakes that will send one lucky winner and a friend to an exotic destination featured in-game.

In addition to Zumba® Fitness World Party, Majesco also revealed Zumba® Dance, the first ever motion-based fitness experience for mobile tablets that lets you take the dance-fitness party with you, anywhere you go. The app is slated to launch this summer.

"Innovation defines our Zumba franchise strategy this year," said Jesse Sutton, chief executive officer, Majesco Entertainment. "World Party's next gen debut features an exciting new aesthetic that complements the game's theme and brings the player around the world in an immersive exploration of movement, music and culture. What's more, our first mobile tablet game, Zumba Dance, breaks new ground as a motion-based app that tracks calorie burn in a flexible on-the-go fitness format. Both of these products exemplify our vision for franchise growth -- leverage new technology to create marketable, differentiated experiences on current generation systems while expanding the brand across next gen and mobile platforms."

"The World Party game has always been a dream for us," said Jeffrey Perlman, CMO, Zumba Fitness. "Zumba blurs the lines between fitness, entertainment and culture. As such, we wanted to create a game that explored different dance cultures from around the world. World Party unites the player with the global community of dance through an interactive experience that delivers both physical and emotional benefits."