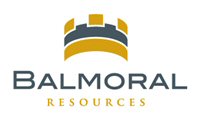 VANCOUVER, BRITISH COLUMBIA -- (Marketwired) -- 05/28/13 -- Balmoral Resources Ltd. ("Balmoral" or the "Company") (TSX VENTURE: BAR)(OTCQX: BALMF) has, received from GTA Resources and Mining Inc. ("GTA"), results from an additional 4 holes completed as part of the on-going Phase 4 drilling program on the Company's Northshore Property located near Schreiber, Ontario. Results confirm the southwest extension of the Afric Gold Zone with hole WB-13-44 returning 0.66 g/t gold over 196.50 metres, including a higher grade section which returned 3.14 g/t gold over 13.00 metres interpreted by GTA to represent the south-westward continuation of the Audney vein system. Hole WB-13-43, drilled up-dip of WB-13-44, also intersected the interpreted extension of the Audney vein returning an intercept of 178.00 g/t gold over 1.00 metre.


---------------------------------------------------------------------------- Hole GoldHole Dip Depth From To Interval(i) UncappedNumber (0) (metres) (metres) (metres) (metres) (g/t) Sub-Zone----------------------------------------------------------------------------WB-12-41 -52 200 92.00 194.00 102.00 0.51 East Ext.including 118.20 128.00 9.80 1.16and 192.50 194.00 1.50 8.56---------------------------------------------------------------------------- NortheastWB-13-42 -50 137 11.00 72.50 61.50 0.32 Ext.including 54.50 60.50 6.00 1.45----------------------------------------------------------------------------WB-13-43 -55 92 65.00 66.00 1.00 178.00(ii) Audney---------------------------------------------------------------------------- Pup (SWWB-13-44 -50 290 33.50 230.00 196.50 0.66 Ext.)including 105.50 162.10 56.60 1.06 "which includes 114.00 127.00 13.00 3.14 Audneywhich includes 114.00 115.00 1.00 15.50 "and 126.00 127.00 1.00 13.80 "and 210.50 212.00 1.50 13.30 "----------------------------------------------------------------------------(i) Reported drill intercepts are not true widths. At this time there isinsufficient data with respect to the shape of the mineralization tocalculate true orientations in space. None of the reported broaderintercepts required capping based on the previous established cappingparameters for the Northshore Property. Calculated averages on broadersections include core lengths up to 17 metres grading less than 0.1 g/t gold(ii) Single sample, uncapped value
Drill holes WB-13-41 and WB-13-43 each intersected broad zones of anomalous gold mineralization along the Eastern and Northeastern extensions of the Afric Zone. The collar locations for each of the holes announced are shown on the map currently on the home page of the Company's website at
www.balmoralresources.com
.
"We are pleased to see continued expansion of both the Afric Gold Zone and high-grade Audney vein system," said Darin Wagner, President and CEO of Balmoral Resources. "As well, we are looking forward to the initial test of the former producing, high-grade, Northshore vein system which provides another potential avenue for growth at Northshore."
The current drill program was temporarily suspended during spring break-up and according to GTA will resume within the next few weeks. An additional 800 metres of drilling is planned. Targets will include further extensions of the Afric gold zone and initial testing in the area of the former producing Northshore mine located 500 metres north of the Afric Zone.
Located immediately south of the town of Schreiber, Ontario within the Hemlo-Schreiber greenstone belt, the Northshore Property is currently 100% owned by Balmoral and under option to GTA. GTA can earn an initial 51% interest in the Property under the terms of an option agreement between the companies (see News Release NR11-17; July 27, 2011). Balmoral currently controls approximately 8.0% of the issued and outstanding shares of GTA and holds the shares for investment purposes.
Quality Assurance/Quality Control
GTA is the operator of the Northshore Property and as operator has generated and provided the information herein to Balmoral. As operator, GTA are responsible for the planning, timing, execution and monitoring of exploration programs on the Northshore Property which is under the supervision of Robert (Bob) Duess, P. Geo. (Ontario), VP Exploration of GTA. Mr. Duess is a qualified person as defined by National Instrument 43-101 and is also the Qualified Person for this release. Mr. Duess has supervised the work programs on the Northshore Property, supervised the collection of the samples and drill core described herein and reviewed the assays and QA/QC data. Mr. Duess has also reviewed and approved this release.
GTA has implemented a quality control program for the drill programs on the Northshore Property to ensure best practice in sampling and analysis. GTA maintains strict quality assurance/quality control protocols including the systematic insertion of certified standard reference and blank materials into each sample batch. Analyses in this release were performed by AGAT Laboratories Ltd. of Sudbury, Ontario with ISO 17025 accreditation. Samples are transported in security sealed bags to AGAT and all samples were assayed using industry-standard assay techniques for gold. Gold was analyzed by a standard 30 gram fire assay with an ICP and/or gravimetric finish.
About Balmoral Resources Ltd. -
www.balmoralresources.com
Balmoral is a Canadian-based precious metal exploration and development company focused on high-grade gold discoveries along the Detour Gold Trend in Quebec, Canada. With a philosophy of creating value through the drill bit and with a focus on proven productive precious metal belts, Balmoral is following an established formula with a goal of maximizing shareholder value through discovery and definition of high-grade, Canadian gold assets.
On behalf of the board of directors of BALMORAL RESOURCES LTD.
Darin Wagner, President and CEO
This press release contains forward-looking statements and forward-looking information (collectively, "forward-looking statements") within the meaning of applicable Canadian and United States securities laws. All statements, other than statements of historical fact, included herein, including statements regarding the anticipated content, commencement, duration and cost of exploration programs, anticipated exploration program results, the discovery and delineation of mineral deposits/resources/reserves, the timing of the receipt of assay results, and business and financing plans and trends, are forward-looking statements. Forward-looking statements are typically identified by words such as: believe, expect, anticipate, intend, estimate, postulate and similar expressions or are those which, by their nature, refer to future events. Although the Company believes that such statements are reasonable, there can be no assurance that such statements will prove to be accurate, and actual results and future events could differ materially from those anticipated in such statements. The Company cautions investors that any forward-looking statements by the Company are not guarantees of future performance, and that actual results may differ materially from those in forward-looking statements. Important factors that could cause actual events and results to differ materially from the Company's expectations include those related to weather, equipment and staff availability; performance of third parties; risks related to the exploration stage of the Company's projects; market fluctuations in prices for securities of exploration stage companies and in commodity prices; and uncertainties about the availability of additional financing; risks related to the Company's ability to identify one or more economic deposits on the properties, and variations in the nature, quality and quantity of any mineral deposits that may be located on the properties; risks related to the Company's ability to obtain any necessary permits, consents or authorizations required for its activities on the properties; and risks related to the Company's ability to produce minerals from the properties successfully or profitably. Trading in the securities of the Company should be considered highly speculative. All of the Company's public disclosure filings may be accessed via
www.sedar.com
and readers are urged to review these materials, including the latest technical reports filed with respect to the Company's mineral properties.
This press release is not, and is not to be construed in any way as, an offer to buy or sell securities in the United States.
Neither the TSX Venture Exchange nor its Regulation Services Provider (as that term is defined in the policies of the TSX Venture Exchange) accepts responsibility for the adequacy or accuracy of this press release.


Contacts:
Balmoral Resources Ltd.
John Toporowski
Manager, Corporate Development
604-638-5815 or Toll Free: 1-877-838-3664
604-648-8809 (FAX)
jtoporowski@balmoralresources.com
www.balmoralresources.com