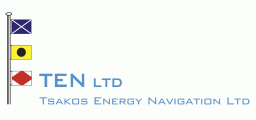 ATHENS, GREECE -- (Marketwired) -- 05/24/13 -- Tsakos Energy Navigation Limited (TEN) (NYSE: TNP)

FIRST QUARTER AND RECENT HIGHLIGHTS

•Fleet consists of 28 product tankers, 19 crude carriers and two LNG vessels •$9.7 million in operating income against $1.0 million in first quarter 2012 •Net income of $1.0 million against a loss of $8.8 million in first quarter 2012 •44 out of 47 vessels with positive EBITDA •EBITDA totals $34.1 million, a 30% increase from first quarter 2012 •Strong liquidity maintained at $139 million at end of quarter •$50.0 million preferred stock offering in May 2013 adds to liquidity •New charters for nine of our product tankers since January 1, 2013 with future minimum gross revenues of $117 million over their respective fixtures •Total minimum contracted coverage exceeds $1 billion with average duration 3.2 years •Time charter equivalent at $18,176 per day versus $17,129 in first quarter 2012 •Daily operating expenses at $7,692 per day versus $8,308 in first quarter 2012 •Fleet utilization of 98% •Quarterly dividend of $0.05 per share, declared for payment on September 12, 2013 •Delivery of first DP2 shuttle tankers, Rio 2016 and Brasil 2014 •One 174,000 m3 LNG carrier under construction with option for a second one •Company celebrates 20 years in the public markets

Tsakos Energy Navigation Limited (TEN) (NYSE: TNP) (the "Company") today reported results (unaudited) for the first quarter ended March 31, 2013.

The first quarter of 2013 ended with net income of $1.0 million and represents a considerable turnaround and improvement over the 2012 first quarter for which we reported a net loss of $8.8 million. The results are mainly due to increases in product carrier rates, and our ability to capitalize on our significant presence in this sector and to the impact of the LNG carrier Neo Energy. Significant savings in voyage expenses, operating costs, depreciation and interest, as detailed below, also provided important contributions.

Revenues, net of commissions and voyage expenses amounted to $69.4 million in the first quarter of 2013, a 4.8% improvement over the first quarter of 2012, despite the reduction of the fleet by two vessels, the VLCCs La Prudencia and La Madrina, which were sold at the end of last year. TEN operated an average of 46.2 vessels in the first quarter of 2013 following the sale of the VLCCs. The fleet utilization was 98%, which represents a very high level of employment irrespective of market conditions.

The average daily time charter equivalent (TCE) rate (voyage revenue less voyage expenses) was $18,176, a 6% improvement over the fourth quarter of 2012 ($17,197) and over the previous first quarter ($17,129). Apart from better rates achieved by our product carriers that reflected market sentiment for that particular sector, up 25.0% from the first quarter of 2012, vessels that operated on spot charters also enjoyed some respite.

Helped by our products and LNG exposure, EBITDA amounted to $34.1 million in the first quarter of 2013, nearly 30% higher than in the previous year first quarter. All the vessels generated positive EBITDA in the first quarter of 2013 with the exception of a suezmax which underwent a dry-docking and two other crude carriers which were employed on spot voyages.