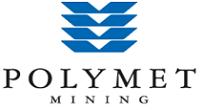 ST. PAUL, MINNESOTA -- (Marketwired) -- 05/24/13 -- PolyMet Mining Corp. (TSX: POM)(NYSE MKT: PLM) ("PolyMet" or the "Company") has filed the final prospectus with the securities regulatory authorities in the provinces of British Columbia, Alberta, and Ontario in Canada and an amendment to its registration statement on Form F-10, of which the final prospectus forms a part, with the U.S. Securities and Exchange Commission for an offering of rights ("Rights") to holders of common shares of the Company to raise up to approximately US$60.5 million in gross proceeds (the "Rights Offering").

Every shareholder will receive one Right for each common share owned on June 4, 2013, the Record Date. Two Rights will entitle the holder to acquire one new common share of PolyMet at US$0.66 per share. The Rights will be listed for trading on the Toronto Stock Exchange ("TSX"), which will also list the common shares issuable upon the exercise of the Rights. PolyMet will apply to list the Rights and Common Shares issuable upon the exercise of the Rights on the NYSE MKT.

Subject to applicable law, all PolyMet shareholders will have the choice to participate and, by exercising all of their Rights, maintain their existing levels of ownership. Rights holders can, in whole or in part, exercise their Rights and subscribe for common shares, or sell or assign their Rights to another party (who wishes to subscribe for new PolyMet common shares).

On May 22, 2013, a special committee of the Board of Directors of PolyMet (the "Board") composed entirely of independent directors recommended the Rights Offering to the Board. In setting the terms, the Board objectives were to act in the best interests of the Company, by being fair to all shareholders regardless of their level of ownership, and to select terms that will be simple to explain and for the market to understand. The Board also considered terms of other comparable rights offering transactions and regulatory requirements.

The Board and senior management have committed to exercise their Rights (or cause them to be exercised) based on current ownership of approximately 3.0%. Glencore AG ("Glencore"), an indirect, wholly-owned subsidiary of Glencore Xstrata plc has committed to exercise its Rights based on its current approximate 25.6% ownership of PolyMet common shares, as well as acquiring any common shares not subscribed for by other PolyMet shareholders subject to certain conditions and limitations described in the final prospectus. Subject to these limitations, if only Glencore and management subscribe and no other shareholders subscribe, Glencore would own approximately 47.8% of the then-issued PolyMet common shares.

"Our focus is transitioning from obtaining agreement on technical aspects of the NorthMet Project for the supplemental draft EIS to completion of the environmental review and permitting process, completion of pre-construction engineering and preparation for project construction," observed Jon Cherry, PolyMet's President and CEO.

"Completion of the previously announced Rights Offering will mean that we are well financed to complete these tasks and gives all our loyal and supportive shareholders the first right to participate in this financing on an equal basis," Mr. Cherry continued.