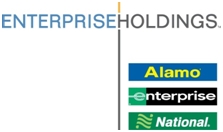 ST. LOUIS, MO -- (Marketwired) -- 05/24/13 -- This year, more than 600 military veterans and reservists already have enlisted in new careers with Enterprise Holdings -- which owns and operates the Enterprise Rent-A-Car, Alamo Rent A Car and National Car Rental brands -- and the company doesn't expect that pace to slow any time soon.

"As the world's largest car rental company, we are well aware that Memorial Day weekend is a busy travel holiday, but we can never forget the larger significance of this national holiday and the importance of honoring and thanking our veterans," said Andrew C. Taylor, chairman and CEO of family-owned Enterprise Holdings. "What better way to show our gratitude than to give them a new opportunity to lead and serve. Enterprise is actively recruiting these proven leaders, and we're humbled by the amazing ways these men and women who have served our country are now helping us better serve our customers."

As a committed member of the national 100,000 Jobs Mission and Joining Forces Travel Industry Coalition, Enterprise Holdings ramped up its efforts to recruit and retain employees with military experience in 2011 and 2012, hiring more than 1,500 veterans and reservists each year. Based on current hiring patterns, Enterprise expects to add 2,000 military employees in 2013.

Enterprise is named after the USS Enterprise, the aircraft carrier on which company founder Jack Taylor served as a Navy pilot, earning two Distinguished Flying Crosses. The seventh of eight U.S. Navy ships named Enterprise, the World War II carrier is widely recognized as the most decorated warship in U.S. military history.

"Beyond just supporting our company's military heritage, we recognize the unique value that employees with a military training background bring to our business," said Taylor, the founder's son. "In fact, veterans and reservists comprise nearly 10 percent of our U.S. workforce."