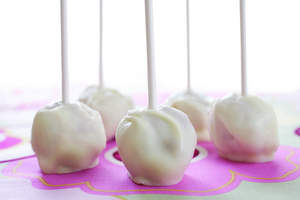 Lemon Poppy Cake Balls


MISSION, KS -- (Marketwired) -- 05/23/13 -- (Family Features) Engagement parties, bridal showers and wedding receptions are blissful, joyous occasions that celebrate the future with those near and dear. However, planning these special events is no small feat, especially when it comes to choosing the menus.

The days of a chicken or beef entrée are long gone -- the dietary preferences of today's party guests include vegetarian, vegan, lactose intolerant and celiac, just to name a few. Now more than 21 million households report themselves as gluten free, and, together, vegetarians and vegans total nearly 22 million people. It's becoming more likely that you will receive special menu requests at your celebration.

How do you create a menu that pleases all palates and ensures that every guest can feel like a part of the joyous occasion? These simple tips make it easy to plan a menu that is delicious, safe and satisfying.

•Gluten-free RSVP - Include a section for dietary restrictions in the RSVP. This ensures guests will enjoy the meal without worry and can fully participate in the celebration. There's no need to list out the various preferences, simply add an open space for guests to write in their specific diet needs.

•Be Cautious of Cocktails - Thoroughly research wine, liquor and beer before making selections as many are deceptively not gluten-free. However, there are great gluten-free options available that allow guests to drink worry-free.

•Get Creative with Options - Use gluten-free products, such as Udi's Double Chocolate or Double Vanilla muffins as cupcakes or to create fun and trendy cake balls. It's a treat that is delicious enough for all guests to indulge in.

•Don't Be Afraid to Ask - Many caterers and bakers have experience working with gluten-free, dairy-free and vegan requests. Don't be afraid to work with them to figure out the most delicious ways to make an event memorable for everyone.

•Label Clearly - When offering passed hors d'oeuvres or serving on a buffet, clearly label gluten-free, dairy-free, vegetarian and/or vegan choices so guests can easily make selections.


These tips will allow all guests to enjoy the festivities and make it a memorable celebration.

For flavorful ideas and more gluten-free options, visit www.udisglutenfree.com.



Lemon Poppy Cake BallsPrep time: 35 minutesTotal time: 1 hour 35 minutesServes: 121 package of Udi's Lemon Streusel Muffins1/2 cup unsalted butter (1 stick), softened2 cups confectioners' sugar1/2 teaspoon pure vanilla extract1 tablespoon freshly squeezed lemon juice12 ounces white chocolate, chopped2 tablespoons all-vegetable shortening poppy seeds, for sprinkling
Crumble the muffins into a large bowl.
Using electric hand mixer, beat together butter and sugar until creamy and blended. Beat in vanilla and lemon juice until fluffy.
Add half of lemon frosting to crumbled muffins and combine using a fork. If mixture isn't moist enough, add more frosting, a little at a time. Using tablespoon-sized cookie scoop, form cake balls and place on parchment-lined baking sheet. Freeze for 1 hour.
In double boiler set over medium heat, melt together chocolate and shortening. Working one at a time and using a toothpick, dip cake balls into the chocolate mixture. Sprinkle with poppy seeds and let set on parchment-lined baking sheet.
About Family Features Editorial Syndicate

This and other food and lifestyle content can be found at
www.editors.familyfeatures.com
. Family Features is a leading provider of free food and lifestyle content for use in print and online publications. Register with no obligation to access a variety of formatted and unformatted features, accompanying photos, and automatically updating Web content solutions.
Image Available:
http://www2.marketwire.com/mw/frame_mw?attachid=2318509
Add to Digg
Bookmark with del.icio.us
Add to Newsvine


Michael French
mfrench@familyfeatures.com
1-888-824-3337
http://editors.familyfeatures.com