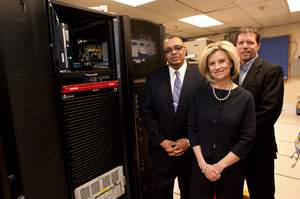 Melvin Evans of SMART, at left, with Sue McGill and Ric Dorman of CTS Companies, appreciates the red-bezeled IPedge business telephone system that will save SMART more than $400,000 over the first five years.


IRVINE, CA -- (Marketwired) -- 05/21/13 -- Toshiba America Information Systems Inc., Telecommunication Systems Division (Toshiba -- www.telecom.toshiba.com) has helped Suburban Mobility Authority for Regional Transportation (SMART -- www.smartbus.org) exceed its communication goals with a new IPedge® business telephone system. The IPedge system processes more than 250,000 incoming calls each month and is expected to save more than $400,000* in the first five years of use.

Created in 1967, SMART is Southeast Michigan's only regional bus system. Helping people connect to work, school, medical appointments, shopping centers, entertainment and cultural events, SMART provides 11 million rides annually and operates 234 Fixed Route buses on 43 routes with more than 5,000 stops, seven days per week, 22 hours per day. Through its Connector Service, SMART also provides 1,100 rides per day for seniors and people with disabilities who can't access SMART's regular Fixed Route service. SMART also partners with 75 municipalities and organizations to support local transit service.

SMART's IT manager, Mel Evans, identified SMART's communications objectives, which include:

•Improving communication with SMART's community of riders, many of whom use the Connector Service and need to call to reserve rides; •Setting up a Call Back feature for the contact center to help avoid long wait times for callers while ensuring their needs are met; •Creating a feature-rich contact center with call reporting, call recording and call management applications to improve customer, agent and supervisor experiences; •Delivering Unified Messaging to deliver email, voice and fax messages to a single inbox; •Enabling SMART's IT team to handle some of its own system administration to save time and money; and •Providing a reliable business telephone system that was affordable while delivering cutting edge technology features with a fast return on investment.

Sue McGill and Ric Dorman, sales representatives at CTS Companies (www.CTS-Companies.com) of Bloomfield Hills, Mich., recommended Toshiba's IPedge. "We knew that Toshiba's IPedge would exceed SMART's objectives," McGill said. CTS Companies has been an Authorized Toshiba Dealer since 1980. CTS Companies is Toshiba's longest-standing dealer.