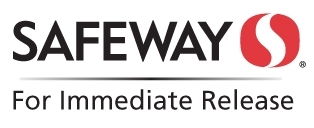 PLEASANTON, CA -- (Marketwired) -- 05/22/13 -- Safeway Inc. (NYSE: SWY) will be participating in the Citi Global Consumer Conference in New York City. Melissa Plaisance, Safeway's Senior Vice President of Finance and Investor Relations, will address conference attendees on Wednesday, May 29th at 2:50 p.m. ET.

The Safeway session will be audio webcast at www.safeway.com/investor_relations. Click on "Webcast" to access the event. A replay will be available for approximately two weeks following the event.

Safeway Inc. is a Fortune 100 company and one of the largest food and drug retailers in North America based on sales. The company operates 1,638 stores in the United States and Canada and had annual sales of $44.2 billion in 2012.