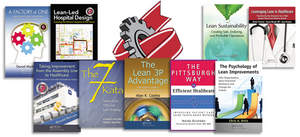 The 2013 Shingo Prize Research Award Winning Books from CRC Press



BOCA RATON, FL -- (Marketwired) -- 05/20/13 -- CRC Press / Productivity Press is pleased to announce that nine of its recent publications have been honored with the prestigious Shingo Research and Professional Publication Award. This prize is awarded to authors who advance the Lean body of knowledge into new areas and promote a broad understanding of operational excellence.

"Productivity Press is honored to have nine books recognized at the 2013 Shingo Conference. The Shingo Professional Publication Award recognizes and promotes books regarding new knowledge and understanding of Lean and operational excellence. These awards make it clear that Productivity Press continues to publish the most practical books on the cutting edge of process improvement and Lean transformations."
-- Michael Sinocchi, Executive Editor, Productivity Press

Productivity Press' most recent recipients of the highly sought after Shingo Prize are:

A Factory of One: Applying Lean Principles to Banish Waste and Improve Your Personal Performance (December 2011, ISBN: 978-1-4398-5993-3, 177 pp.) by Daniel Markovitz teaches readers how to find the root causes underlying their inefficiencies so they can eliminate them permanently. It will help readers immediately improve personal productivity while developing the skills needed for continuous improvement.

Lean-Led Hospital Design: Creating the Efficient Hospital of the Future (March 2012, ISBN: 978-1-4398-6828-7, 338 pp.) by Nadia Grunden and Charles Hagood explains how hospitals can be built to increase patient safety and reduce wait times while eliminating waste and lowering costs. It supplies a simplified timeline of architectural planning to guide readers through the various stages of the Lean design development philosophy.

Lean Sustainability: Creating Safe, Enduring, and Profitable Operations (June 2011, ISBN: 978-1-4398-5716-8, 222pp.) by Dennis Averill is a how-to manual on the proper integration of safety and environmental sustainability with Lean implementations. It provides a proven recipe for achieving safety and sustainability excellence. It unveils little-known tips for eliminating waste and increasing process efficiency -- while reducing safety incidents and the overall impact on the environment.