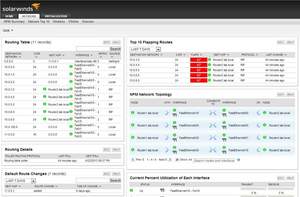 SolarWinds Network Performance Monitor's new network route monitoring feature takes fault and performance monitoring to the next level by providing real-time network route information alongside device status and performance statistics.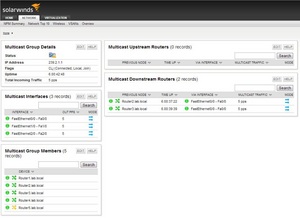 SolarWinds Network Performance Monitor's new network multicast monitoring feature enables IT pros to monitor routers, switches and end-points that receive and forward multicast packets by automatically detecting and importing existing multicast groups and applications.



AUSTIN, TX -- (Marketwired) -- 05/23/13 -- SolarWinds (NYSE: SWI), un proveedor líder de software de gestión de TI potente y asequible, introdujo hoy nuevas capacidades de monitoreo de ruta de red y multi-difusión dentro del producto emblema de gestión de redes, SolarWinds Network Performance Monitor (NPM). SolarWinds NPM ofrece a los profesionales en TI una gestión potente de fallas de red, disponibilidad y gestión del desempeño, simplificando la detección, el diagnóstico y la resolución de problemas de red antes de que se caiga la red.

Conforme las redes dinámicas actuales crecen en tamaño y complejidad, el número de estados de topología de ruteo crece exponencialmente. Con la nueva función de monitoreo de ruta de red, SolarWinds NPM lleva el monitoreo de fallas y desempeño al siguiente nivel, proporcionando información de ruta de red en tiempo real junto con estadísticas de estado y desempeño de dispositivos. Con soporte para los principales protocolos de ruteo, incluyendo RIP v2, OSPF v2 y BGP, los profesionales en IT ahora pueden ver tablas de ruteo, cambios en rutas por defecto, transiciones BGP y rutas de variación rápida en una consola intuitiva basada en la red.

Adicionalmente, muchos servicios avanzados de red, incluyendo la distribución de multimedia, finanzas, educación e imágenes en computadora se sustentan en la multidifusión de IP para reducir el uso de ancho de banda de la red. La nueva función de SolarWinds NPM de monitoreo de multidifusión de red le permite a los profesionales en TI monitorear rúters, interruptores y puntos de usuario final que reciban y envíen paquetes de multidifusión, mediante la detección y la importación automática de grupos y aplicaciones de multidifusión existentes.