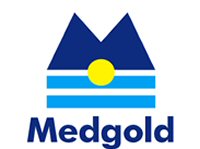 VANCOUVER, BRITISH COLUMBIA -- (Marketwired) -- 05/23/13 -- Medgold Resources Corp. (TSX VENTURE: MED), the European focused gold exploration company, is pleased to report excellent first-pass sampling results from recent work at its wholly-owned Vila de Rei gold project in central Portugal. The project covers 40 line km of a regional structure which is known to contain multiple gold-bearing zones.

Preliminary exploration at the Pampilhal prospect has outlined highly anomalous gold mineralisation associated with silicification over a 2.4 km by 1.3 km area, including over 2.8 km combined strike length of linear, structurally-controlled gold-bearing silica ridges or "ribs". Sampling maps have been posted on Medgold's website at www.medgoldresources.com/vila-de-rei.asp.


--  The longest exposed silica rib, named Dan's Ridge, extends for over 1.2    km and returned anomalous gold along its entire length, with assays    ranging from trace to 12.45 g/t Au and including samples of 3.48 g/t and    1.06 g/t Au. Thirty-two rock grab samples were collected along its    length at roughly 40-100 m intervals.--  The Western Ridge, in the northern end of the prospect, is exposed over    300 m and returned remarkably consistent high gold assays for a first-    pass sampling program. Five rock grab samples were collected along its    length at roughly 75-100 m intervals, returning 2.10 g/t, 1.20 g/t, 1.45    g/t, 2.36 g/t and 1.15 g/t Au.--  In the southern end of the prospect, the Southeast Ridge is exposed over    365 m. Eight rock grab samples were collected, yielding results from    0.046 g/t to 3.76 g/t Au and including samples of 3.32 g/t Au and 1.84    g/t Au.
Dan James, the President of Medgold, said, "We're delighted with this early work at Pampilhal which has clearly identified a major zone of gold mineralization hosted by multiple linear silica ribs. The work has substantially upgraded the huge potential of the Vila de Rei licence area, and our ongoing work will now focus on the principal prospect of Pampilhal, which covers an area of 2.4 km by 1.3 km. We believe that Pampilhal has sufficient scale and strike-length to host a potentially significant gold resource and I've asked our field crews to focus on detailed mapping and channel sampling of the ribs as well as continuing the licence-wide exploration program.
On a wider level, Vila de Rei is only one of a number of projects that we are developing in Portugal, Spain and Italy and we are moving all of these forward with view to having a number of quality drill targets by the end of the year."
The Vila de Rei Gold Project
The Vila de Rei gold licence covers 300 square km focused on the Porto-Cordova lineament, a major crustal fault associated with the Hercynican Orogeny. Silica-pyrite-gold mineralization is hosted within silicified structures which have subsequently been oxidized to iron oxide boxworks liberating gold. The majority of the gold-tin-tungsten deposits in northwest Iberia are Hercynian in age and are related to this orogeny.
The recent field program in April comprised reconnaissance work over the Pampilhal and Rei anomalies, but also involved licence-wide prospecting. A total of 106 rock grab samples were collected, (including 11 QC samples), with 55 from Pampilhal prospect and 40 from Rei prospect. Fifty five rock samples were collected from the Pampilhal prospect with 41 (75%) yielding greater than 0.1 g/t Au and 11 (20%) greater than 1.0 g/t Au.