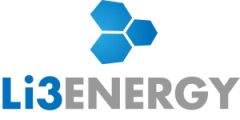 SANTIAGO, CHILE -- (Marketwired) -- 05/21/13 -- Li3 Energy, Inc. (OTCBB: LIEG) ("Li3"), a US-listed and South America-based global exploration company in the lithium and minerals sector, and Blue Wolf Mongolia Holdings Corp. (NASDAQ: MNGL) ("Blue Wolf"), a British Virgin Islands blank check company formed for the purpose of effecting a business combination, announced their entry into an Agreement and Plan of Merger for an initial business combination. Upon closing of the Agreement and Plan of Merger and the transactions contemplated thereby (the "Transaction"), Li3 will merge with and into a wholly owned subsidiary of Blue Wolf with Li3 surviving the Transaction. Depending on the timing and process of regulatory reviews and Li3 obtaining its requisite shareholder approval, the Transaction is expected to be completed on or before July 22, 2013. Following the closing, Blue Wolf intends to change its name to Li3 Energy Corp. and continue to list its securities on the NASDAQ Capital Market ("NASDAQ"), subject to satisfying NASDAQ's initial listing criteria. Li3 Energy Corp. intends to apply to list its securities on the TSX Venture Exchange. There are no assurances that Li3 Energy Corp. will be successful in listing or maintaining its securities on either NASDAQ or the TSX Venture Exchange.

Luis Saenz, CEO of Li3, stated: "We are very pleased to have entered into this agreement with Blue Wolf. We believe the Transaction will enable Li3 to continue advancing its lithium projects in Chile and become a low cost producer and consolidator in the lithium industry. We continue to explore strategies to advance our Maricunga Project, and this Transaction demonstrates our continued efforts towards that end. We look forward to working together with Blue Wolf to close the Transaction between our two companies."

Lee Kraus, Chairman and CEO of Blue Wolf, observed: "A merger with Li3 provides our investors with a unique opportunity to participate in the exciting growth outlook for the lithium industry driven by accelerating lithium consumption from electric and hybrid vehicles and electricity distribution smart grids, as well as the already strong lithium demand from smartphones and tablets."

Li3's existing management team, including Luis Saenz, CEO, Luis Santillana, CFO, and Marc Lubow, EVP, will lead Li3 Energy Corp. post closing. The Li3 Energy Corp. board of directors will be comprised of 7 members, including four directors nominated by Li3 and three directors nominated by Blue Wolf.

Upon the consummation of the Transaction (the "Effective Time"), holders of outstanding Li3 common stock will receive one (1) ordinary share of Blue Wolf for every two hundred fifty (250) shares of Li3 common stock held by such shareholders (the "Merger Consideration"). Each option and warrant to purchase shares of Li3 common stock outstanding immediately prior to the Effective Time will be converted into a right to acquire shares of Blue Wolf at a similar exchange rate.

At the closing of the Transaction, Blue Wolf will retain a minimum of $5.0 million and a maximum of $19.4 million of proceeds from its trust account, net of payments for Blue Wolf's purchase of shares in its Tender Offer and transaction-related expenses. Li3 Energy Corp. expects to use these proceeds to repay Li3's short-term debt as well as for acquisition payments and working capital, including implementing its development plan to advance its lithium projects in Chile towards a Feasibility Study and commercial scale. It also expects to use the net proceeds from the Transaction to continue exploring joint venture opportunities in other synergistic "grandfathered" lithium properties within Maricunga.