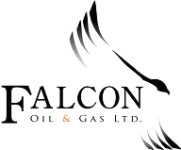 DUBLIN, IRELAND -- (Marketwired) -- 05/23/13 -- Falcon Oil & Gas Ltd. (TSX VENTURE: FO)(AIM: FOG)(ESM: FAC) ("Falcon" or the "Company"), is pleased to announce that further to its press release dated 14 January 2013, NIS has executed a drilling contract with Germany-based drilling company DrillTec Grossbohr- und Umwelttechnik GmbH ("DrillTec") for the multi well programme.

Under the terms of the contract NIS will drill the first exploration well "Kutvolgy-1", targeting gas prospects in the Algyo Formation at a depth of approximately 3,000m in the Mako Trough. Mobilisation of the rig is expected to commence around the end of this month, and spudding of the well in mid June 2013.

The drilling program is planned to initially drill one to two wells in the Algyo Formation, log and then suspend the wells pending further evaluation before carrying out an appropriate testing program. Drilling of the initial well is expected to take approx. 40 days

In accordance with the agreement with NIS, announced on 14 January 2013, Falcon is fully carried and all costs associated with the drilling program will be paid for by NIS. Any revenue from the initial three well program will be shared 50:50 between Falcon and NIS.

Philip O'Quigley, CEO of Falcon commented:

"We are delighted to announce the commencement of drilling operations in Hungary. The partnership with NIS has been excellent over the last few months and we now are looking forward to exploring the further hydrocarbon potential of the Mako trough"

About the Algyo

The Algyo is a relatively shallow play between 2,300m and 3,500m. A number of Falcon wells have been drilled through the Algyo in recent years, some of which encountered gas shows, but to date no well has ever tested the play concept at an optimal location as previous wells targeted deeper intervals of up to 6,000m.

Multiple Algyo prospects have subsequently been identified by Falcon through extensive AVO analysis and the upcoming exploration drilling program with NIS will be targeting three separate high-graded prospects.

A recent independent study by RPS Energy (January 2013) included for the first time Prospective Resource recoverable volumes attributable to the shallow "Algyo Play". According to the RPS CPR report, eight of the ten prospects identified by Falcon contain 568 BCF of prospective recoverable gas resources, each with a 10% Geological Probability of Success ("GPoS").

About Falcon Oil & Gas Ltd.

Falcon is an international oil & gas company engaged in the acquisition, exploration and development of conventional and unconventional oil and gas assets, with the current portfolio spread between Australia, South Africa and Hungary. Falcon is incorporated in British Columbia, Canada and headquartered in Dublin, Ireland with a technical team based in Budapest, Hungary.

For further information on Falcon Oil & Gas Ltd. please visit www.falconoilandgas.com.

About NAFTNA INDUSTRIJA SRBIJE JSC (NIS)

NIS is one of the largest, vertically integrated oil and gas companies in Southeast Europe, focusing on exploration and production of hydrocarbons, refining of crude oil and sales of a broad range of petroleum products.