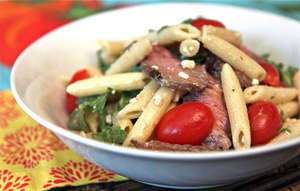 Steakhouse Pasta Salad kicks off Dreamfields 3rd Annual Pastapalooza Summer Celebration



MINNEAPOLIS, MN -- (Marketwired) -- 05/23/13 -- The blogosphere will be buzzing about the season's most popular salad all summer long thanks to the 3rd Annual "Pastapalooza" Pasta Salad Celebration.

In its annual salute to this ubiquitous favorite, Dreamfields pasta has invited 15 of the nation's leading food bloggers to create their favorite pasta salad recipes. Each Friday at noon from Memorial Day through Labor Day, Dreamfields will share a different blog post and delicious recipe via its Facebook and Twitter accounts. Fans of the brand will be encouraged to follow the link to the blogger's post to get the recipe as well as a chance to win a free case of pasta. Go to www.TryDreamfields.com/pastasalad for more information.

Dreamfields makes any pasta salad better for you with its unique nutritional benefits. Made from durum wheat semolina, it has the same taste and texture as traditional pasta but with twice the fiber and fewer digestible carbohydrates per 1-cup cooked serving. Creamy, savory, spicy, fruity -- there's a perfect pasta salad for every palate and occasion, even for those managing weight or maintaining healthy blood sugar levels.

"Everyone is looking for easy ways to eat more healthfully without sacrificing taste. With social media sites becoming such a robust source for recipes and meal ideas, we wanted to ask some of America's popular food bloggers for their take on this classic summer dish with Dreamfields pasta," said Mike Crowley, president of Dreamfields pasta. "Now people who are watching their blood sugar, or their weight or just interested in eating healthier can feel better about enjoying a pasta salad at their next cookout, graduation party or backyard dinner."

Kicking off the summer-long program is Average Betty with a recipe and video for this delectable Steakhouse Pasta Salad. For more recipes like this, visit www.DreamfieldsFoods.com/recipes.



STEAKHOUSE PASTA SALADPreparation Time: 20 minutesCook Time: 12 minutes 1 box Dreamfields Penne Rigate 3/4 to 1 pound boneless beef top sirloin steak, about 1-inch thick (see note) Salt and pepper 1/2 cup crumbled blue cheese 1/2 cup prepared or homemade vinaigrette 1-1/2 cups halved cherry tomatoes 2 to 3 cups arugula
1. Cook pasta according to package directions; drain. Rinse with cold water until completely cooled; drain again. Place in large bowl.
2. Meanwhile, heat large nonstick skillet over medium until hot. Season steak with salt and pepper as desired. Place beef in skillet. Cook 10 to 12 minutes, turning occasionally, for medium rare to medium doneness (or cook to desired doneness). Remove steak from skillet; allow to stand 10 minutes, then carve into thin strips.
3. Add blue cheese to vinaigrette; stir until dressing begins to look creamy, breaking up some of crumbles.
4. Toss pasta with tomatoes, then arugula. Add dressing and toss to coat. Top with steak slices and toss. Serve immediately.
Makes 6 to 8 servings.Note:
Leftover grilled or broiled beef steak, cut into thin strips, can be substituted for pan-broiled boneless beef top sirloin.
Nutrition information (1/6 of recipe):
360 calories; 21 g protein; 10 g digestible carbohydrates*;
10 g total fat; 3 g saturated fat; 38 mg cholesterol; 444 mg sodium; 6 g total dietary fiber.
*If traditional pasta is used in this recipe there is a total of 50 g carbohydrate. For more information go to
www.dreamfieldsfoods.com
.
Image Available:
http://www2.marketwire.com/mw/frame_mw?attachid=2318395
Add to Digg
Bookmark with del.icio.us
Add to Newsvine


Contact:
Liz Housman
lhousman@dreamfieldsfoods.com
952.460.7407

Liz Mudroncik
lizrm@mpfood.com
312.201.9101