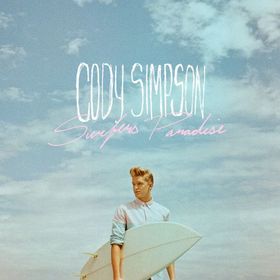 NEW YORK, NY -- (Marketwired) -- 05/17/13 -- Atlantic recording artist Cody Simpson has revealed details of his anticipated new album. "SURFERS PARADISE" -- which follows the Australian-born pop star's 2012 debut, "PARADISE" -- arrives everywhere on July 16th. "Surfers Paradise is basically the most famous area on the Gold Coast of Australia, where I am from," explains Simpson. "I think this album really represents that piece of me, my lifestyle, and where I come from. When making my first album 'Paradise' it was sort of a journey to find myself as a young adult & artist. With 'Surfers Paradise' the entire process felt more natural and comfortable, like being back home. I wanted to share that feeling with my fans."

"SURFERS PARADISE" is heralded by the buoyant new single, "Pretty Brown Eyes." Hailed by Billboard as a "happy-go-lucky... summer anthem," the track will ship to Top 40 radio outlets nationwide later this month, having already proven yet another Radio Disney favorite for the massively popular Simpson. "Pretty Brown Eyes" is also shaping up as a YouTube sensation, with its companion video -- directed by Cameron Duddy (Bruno Mars, Cee Lo Green, P!nk) -- drawing close to 2.5 million views thus far at Cody's official YouTube channel, www.youtube.com/user/CodySimpsonMusic.

Simpson also recently unveiled an additional track from "SURFERS PARADISE," entitled "Awake All Night." The song's companion video -- written, produced, and performed by Simpson and directed by acclaimed Toronto filmmakers The Young Astronauts -- has quickly earned close to 1 million views at www.youtube.com/watch?v=XVY6cQov12A.

Simpson showcased both "Pretty Brown Eyes" and "Awake All Night" as part of a stellar live appearance at the 2013 Radio Disney Music Awards, held last month at Los Angeles' famed Nokia Theatre L.A. LIVE. The medley can be viewed now at both www.youtube.com/watch?v=dalog3BnMwc as well as via Cody's official website, www.codysimpson.com/blog/cody-simpson-s-radio-disney-performance-video-723656.

Simpson -- who has spent much of the past year on the road, with highlights including his first-ever European headline tour as well as dates on Justin Bieber's world-conquering Believe Tour -- will celebrate "SURFERS PARADISE" with a major North American tour. The 36 city "Paradise Tour," part of AEG Lives' worldwide touring partnership with Simpson, will get underway May 30th at The Moran Theatre in Jacksonville, Florida. Supporting Simpson on all dates will be Ryan Beatty and opener Before You Exit. For up-to-the-minute tour and ticket information, please visit www.codysimpson.com/tour.