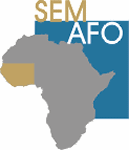 MONTREAL, QUEBEC -- (Marketwired) -- 05/14/13 -- SEMAFO Inc. (TSX: SMF)(OMX: SMF) announced voting results from its Annual Meeting of Shareholders held on Monday, May 13, 2013. A total of 146,862,371 common shares or 53.7% of our issued and outstanding common shares were represented in person or by proxy at the annual meeting.

Shareholders voted in favour of all items of business, including election of each director nominee by a majority as follows:


Terence F. Bowles, ENG, MBA, ICD.D 99.1%Benoit Desormeaux, CPA, CA 95.9%Jean Lamarre 94.9%John LeBouthillier, CM 93.3%Gilles Masson, CPA, CA 95.9%Lawrence McBrearty 95.6%Tertius Zongo 99.7%
Additionally, the proposal to ratify the selection of PricewaterhouseCoopers LLP as the auditors of the Corporation was approved.
Total votes cast: 146,862,371For: 98.8%Abstain: 1.16%
An advisory resolution on the Corporation's approach to executive compensation was also approved.
Total votes cast: 144,224,797For: 87.6%Against: 12.4%Withheld: 2,637,574
About SEMAFO
SEMAFO is a Canadian-based mining company with gold production and exploration activities in West Africa. The Corporation currently operates three gold mines: the Mana Mine in Burkina Faso, the Samira Hill Mine in Niger and the Kiniero Mine in Guinea. SEMAFO is committed to evolve in a conscientious manner to become a major player in its geographical area of interest. SEMAFO's strategic focus is to maximize shareholder value by effectively managing its existing assets as well as pursuing organic and strategic growth opportunities.


Contacts:
SEMAFO
Robert LaValliere
Vice-President, Investor Relations
Cell: +1 (514) 240 2780
robert.lavalliere@semafo.com

Sofia St Laurent
Communications & Investor Relations
Tel. local & overseas: +1 (514) 744 4408
North America Toll-Free: 1 (888) 744 4408
sofia.stlaurent@semafo.com
www.semafo.com

Maria Bang
Brunswick Group Stockholm
+46 (8) 410 32 189
mbang@brunswickgroup.com