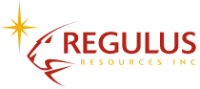 VANCOUVER, BRITISH COLUMBIA -- (Marketwired) -- 05/14/13 -- Regulus Resources Inc. ("Regulus" or the "Company") (TSX VENTURE: REG) has commenced a drilling campaign at the Company's 100% owned Cerro Cori gold target located two kilometres northeast of the main Rio Grande Project in Salta Province, Argentina. Near-surface gold mineralization was discovered with a single drill hole at Cerro Cori in late 2012 (RGR-12-118 with 297 m containing 0.36 g/t Au from the surface - please see press release of November 16, 2012). In the intervening months the Company has completed a follow-up program consisting of trenching, geological mapping, and extension of the existing ground magnetic survey in preparation for the current drilling program.

John Black, President and CEO of Regulus commented as follows:

"The work completed over the last several months at the Cerro Cori gold target has confirmed potential for near-surface gold mineralization amenable to heap leaching. We believe that the multi-directional, sheeted quartz-magnetite vein style of mineralization at Cerro Cori may represent the upper levels of a system similar to the nearby Lindero gold deposit, located ten kilometres to the southeast. Goldrock Mines (GRM TSX.V) recently announced the completion of a positive feasibility study for a heap-leach gold operation at Lindero and is fully permitted for mine development. The proximity of the projects presents opportunity for synergy if similar mineralization is encountered at Cerro Cori and this possibility can be tested for very low cost.

Despite the challenging market conditions for mineral exploration companies, Regulus Resources is in a fortunate position with more than $14 million in cash (approximately $0.14 per outstanding share), no debt, and full ownership of its properties. We are currently evaluating a number of opportunities to access additional good projects that are held by companies without sufficient resources to advance them properly. These difficult market conditions may present unusually good opportunities to acquire top quality assets that will diversify our political and technical risks."

Cerro Cori Geological Mapping and Trenching Results

A total of 3,127 metres of trenching has been completed and sampled at the Cerro Cori gold target, largely in areas of limited outcrop exposure. This trenching has confirmed the presence of elevated gold, ranging from 0.2 to 1.1 g/t Au, associated with narrow sheeted quartz/magnetite stringer veins similar to those seen at the Lindero heap leach gold deposit of Goldrock Mines (GRM TSX.V, formerly Mansfield Minerals), located ten kilometres to the southeast.

Two main zones of gold mineralization have been outlined by trenching at the Cerro Cori target. The North Zone occurs along the northern flank of Cerro Cori and covers an area of approximately 150 by 300 metres. Additional mineralization has been recently exposed approximately 100 metres to the south-southeast of the North Zone and remains open to the east.

Mineralized intervals from trench sampling at the North Zone include a 46 metre interval containing 0.24 g/t Au, 58 metres with 0.32 g/t Au, and 62 metres with 0.26 g/t Au. This zone has not been previously tested by drilling.