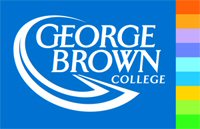 TORONTO, ONTARIO -- (Marketwired) -- 05/14/13 -- Canada's leading sports business, education and marketing professionals will honour the next generation of leaders in the sports industry at the second annual "5 To Watch Awards": A Celebration of Leadership in Canadian Sport Business on Thursday, May 16, 2013 at George Brown's Waterfront Campus.

The "5 to Watch" awards, presented by George Brown College in partnership with The Globe and Mail, will name the five most influential and accomplished Canadians under the age of 40 in the sports business and marketing sectors. Launched to benefit current and future students, the awards will help raise funds for student bursaries in the Centre for Business at George Brown College.

TSN sportscaster Kate Beirness will host the event. The evening will include key note addresses by TSN host and renowned Olympic commentator Brian Williams, O.C.; Canadian Football League commissioner Mark Cohon; Stacey Allaster, chair and CEO of the Women's Tennis Association and Andrew Nicholson, Mississauga native and a forward with the NBA's Orlando Magic.

WHEN:


-- Thursday, May 16, 2013 at 7 p.m.
WHERE:
-- George Brown College Waterfront Campus, 51 Dockside Drive, Toronto


Contacts:
To RSVP, or for more information, please contact:
George Brown College
Joyann Callender
Manager Media Relations
Mobile: 647-988-0306
jcallender3@georgebrown.ca