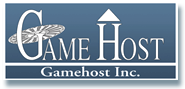 RED DEER, ALBERTA -- (Marketwired) -- 05/14/13 -- Management and Directors of Gamehost Inc. (the "Company") (TSX: GH) are pleased to present results for the three months ended March 31, 2013 (the "Period", or "Quarter").

Total operating revenues for the Quarter grew by 1.1% to $19.1 million from $18.9 in the same quarter of 2012. This is again a quarterly revenue record for the Company. Earnings before interest, taxes, depreciation and amortization ("EBITDA") that is attributable to owners of the Company ("EBITDA to Owners") fell marginally by $0.1 million or 1.2% to $8.3 million for the Quarter compared to $8.4 million for the same quarter in 2012 as a result of higher spending on repairs and maintenance. EBITDA to Owners margin percentage was lower by 92 basis points to 45.6% from 46.5% in the Quarter compared to one year earlier.

The corporate objective to maintain and/or grow the distributions of the Company has been stated consistently over the lifespan of the Company. The Company maintained a monthly dividend rate of $0.0733/Share during the Quarter and declared an April 2013 dividend of the same amount payable in May 2013 for the 28th consecutive monthly dividend since converting to a corporation at the end of 2010.

Debenture holders have witnessed our commitment to this objective and in growing numbers have been converting their debentures to common stock ("Shares"). During the Quarter, $3.6 million face value debentures were presented for conversion to 341,492 Shares. A further $1.7 million face value debentures were converted during April 2013 to 161,780 Shares leaving $26.3 million of the original $55.0 million debenture issue outstanding at the date of writing.

It's true in real-estate and more specifically in gaming real-estate. We maintain our belief that Company gaming assets are the envy of the Alberta gaming world.

Ft. McMurray, a gem location, is poised for some exciting potential over the coming years. Despite recent headwinds in the heavy oil business, the municipality is forging ahead with long term plans for a complete redevelopment of the downtown core where our casino is located. Plans for redevelopment will showcase to the world that the town is shedding its frontier boom/bust image and intends to become the cosmopolitan epicentre of the north. Family friendly plans are intended to motivate migrant workers to permanently relocate to the area. The City of Ft. Murray is anticipating substantial growth over the next 10 to 20 years. We are following the City's development plans closely for any opportunities or risks that may arise.

Grande Prairie continues to be a very stable market for us. We anticipate long term benefits to our business from the construction of a new hospital adjacent to our site. We are currently developing plans of our own to expand the food & beverage and entertainment amenities at our Great Northern Casino and to give the exterior a facelift.

Development continues in the area surrounding our Deerfoot Inn & Casino. The new South Health Campus is now open and additional office projects have been announced in Quarry Park. Both of these multi-year, multi-million dollar developments will continue to draw workers and residents to this fastest growing quadrant of the city of Calgary.

Interim condensed consolidated statements of profit and comprehensive income


In Canadian dollars (un-audited) ------------------------------ three months ended March 31 ------------------------------ 2013 2012 ------------------------------ ------------------------------Operating revenue $ 19,115,221 $ 18,859,337Cost of sales Other (9,701,045) (9,432,770) Depreciation (526,413) (535,190) ------------------------------ (10,227,458) (9,967,960) ------------------------------Gross profit 8,887,763 8,891,377Other income 61,618 57,812Administrative expenses Other (807,023) (759,919) Depreciation (496,211) (567,732) ------------------------------ (1,303,234) (1,327,651) ------------------------------Profit from operating activities 7,646,147 7,621,538 ------------------------------Finance income 25,508 22,942Finance costs (1,117,001) (1,940,696) ------------------------------Profit before income taxes 6,554,654 5,703,784Income tax expense (1,896,815) (1,515,278) -----------------------------Profit and comprehensive income $ 4,657,839 $ 4,188,506 ----------------------------- -----------------------------Profit and comprehensive income attributable to: Owners of the Company $ 4,334,702 $ 3,873,520 Non-controlling interest 323,137 314,986 ------------------------------ $ 4,657,839 $ 4,188,506 ------------------------------ ------------------------------Earnings per shareBasic and diluted earnings per share $ 0.19 $ 0.18EBITDA to Owners $ 8,332,812 $ 8,392,186EBITDA to Owners % 45.6% 46.5%
This press release may contain forward-looking statements. Forward-looking statements may contain words such as "anticipates", "believes", "could", "expects", "indicates", "plans" or other similar expressions that suggest future outcomes or events. Use of these statements reflect reasonable assumptions made on the basis of management's current beliefs with information known by management at the time of writing. Many factors could cause actual results to differ from the results discussed in forward-looking statements. Actual results may not be consistent with these forward- looking statements.
Gamehost is a corporation established under the laws of the Province of Alberta. The Company's operations are all located in the Province of Alberta, Canada. Operations of the Company include the Boomtown Casino in Ft. McMurray, the Great Northern Casino, Service Plus Inns & Suites hotel and a strip mall all located in Grande Prairie. The Company also holds a 91% ownership position in Deerfoot Inn & Casino Inc. in Calgary.
This interim consolidated financial results announcement includes the accounts of Gamehost Inc. and its subsidiaries; however, it does not include all disclosures normally provided in interim or annual consolidated financial statements and should be read in conjunction with the 2013 Q1 interim consolidated financial statements and the 2012 annual consolidated financial statements. Further, while the financial figures included in this results announcement have been computed in accordance with IFRS applicable to interim periods, this announcement does not contain sufficient information to constitute an interim financial report. The company has published and filed an interim financial report for the interim period ended March 31, 2013. This report, along with historical financial reports can be found on the Company's website at
www.gamehost.ca
and will be filed in its entirety along with the Company's other continuous disclosure documents, when they are available, on SEDAR at
www.sedar.com
.
Gamehost common shares and convertible debentures trade on the Toronto Stock Exchange (TSX) under the symbols GH and GH.DB respectively.


Contacts:
Gamehost Inc.
Craig M. Thomas
(877) 703-4545
(403) 340-0683

Gamehost Inc.
Darcy J. Will
(877) 703-4545
(403) 340-0683
info@gamehost.ca
www.gamehost.ca