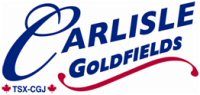 TORONTO, ONTARIO -- (Marketwired) -- 05/14/13 -- Carlisle Goldfields Limited ("Carlisle" or the "Company") (TSX: CGJ)(OTCQX: CGJCF) is pleased to provide an exploration and resource update for its Lynn Lake Gold Camp in northern Manitoba, Canada. Over the course of 2011 and 2012, the Company completed 67,611 metres or 193 holes of core drilling on its five projects and successfully generated five NI 43-101 resource estimates. Highlights of the 2012 exploration campaign include:


--  Delineated Measured and Indicated Resources of 2.75 M oz of Gold--  Delineated Inferred Resources of 2.28 M oz of Gold--  Identified a new area of interest west of the Linkwood Project: The    Dunvegan Zone--  Excellent exploration targets around the initial high-grade Farley Lake    resource
Carlisle's President and CEO, Bruce Reid commented that: "We had a very successful 2012 at our Lynn Lake Gold Camp. We produced NI 43-101 resource reports for all five projects, with the 5th resource estimate just having been released. We now enjoy a much better understanding of each project, have identified new areas of interest and have catalogued 80 years of data."
NI 43-101 Resource Estimates
----------------------------------------------------------------------------Project           Resource                  Category      MacLellan Mine   Burnt Timber       Linkwood--------------------------------------------------------------------------------------------------------------------------------------------------------Tonnes            Measured          15,010,000              -              -                  ----------------------------------------------------------                  Indicated         17,374,000      1,021,000        984,000                  ----------------------------------------------------------                  Inferred           1,898,000     23,438,000     21,004,000----------------------------------------------------------------------------Grade (g/t)       Measured                2.08              -              -                  ----------------------------------------------------------                  Indicated               1.82           1.40           1.16                  ----------------------------------------------------------                  Inferred                2.01           1.04           1.16----------------------------------------------------------------------------Contained Ounces  Measured/ of Gold          Indicated          2,018,100         46,000         37,000                  ----------------------------------------------------------                  Inferred             127,000        781,000        783,000--------------------------------------------------------------------------------------------------------------------------------------------------------Project           Resource                        Farley Lake       Combined                  Category           Last Hope           Mine       Projects--------------------------------------------------------------------------------------------------------------------------------------------------------Tonnes            Measured                   -              -     15,010,000                  ----------------------------------------------------------                  Indicated            201,000      5,914,000     25,458,000                  ----------------------------------------------------------                  Inferred           1,067,000      4,364,000     51,771,000----------------------------------------------------------------------------Grade (g/t)       Measured                   -              -           2.08                  ----------------------------------------------------------                  Indicated               5.75           3.21           2.11                  ----------------------------------------------------------                  Inferred                5.29           2.87           1.37-------------------------------------------------------------===============Contained Ounces  Measured/ of Gold          Indicated             37,000        610,000      2,748,100                  ----------------------------------------------------------                  Inferred             182,000        403,000      2,276,000-------------------------------------------------------------===============