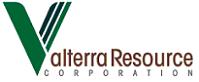 VANCOUVER, BRITISH COLUMBIA -- (Marketwired) -- 05/13/13 -- Valterra Resource Corporation (TSX VENTURE: VQA)(FRANKFURT: 3VA) reports that metallurgical results from continued testing on the +20kg Discovery Zone trench sample from the Bobcaygeon Graphite Project in southern Ontario has produced an ultra-high-purity, fine-flake graphite concentrate of 99.97% C by LOI method.

This new analysis represents further refinement and a more robust analytical method compared to an earlier reported result from a smaller sample size of the fine-flake fraction that returned +99% C (see NR-05-13) and moves the fine-fraction concentrate into the ultra-high-purity product category.

A fine-flake concentrate (-150 mesh) was ground to P80 of approximately 40 microns and upgraded to greater than 90% C by means of flotation. The flotation concentrate was subjected to a two-stage leach process followed by LOI analyses on the leach residue. ICP analyses to determine impurities is pending(1).

Previously reported highlights from metallurgical work conducted at SGS Lakefield includes:


--  55.9% of the concentrate separates into the fine-flake category (-150    mesh) which was used in the above analysis.--  31.7% of the concentrate separates into the large and jumbo flake    categories (+80 mesh or greater than 0.178mm) grading 94.9% C by LOI.    This includes 14.6% of the concentrate at a +48 mesh (jumbo flake)    grading 94.7% C by LOI.--  12.4% of the concentrate separates into the medium-flake category (-80    to +150 mesh) grading 96.3% C by LOI.--  Total overall concentrate recoveries of 93.3% at a combined concentrate    grade of 93.1% C by LOI.--  34% Cg head-grade was returned in trench float sampling of primarily    flake graphite with flakes of up to 3mm in length.
These preliminary flotation and leaching test results demonstrate the potential to produce marketable, very high-margin natural graphite products utilizing industry-standard processing techniques from the entire concentrate, including the ultra-high-purity fine-flake fraction. Only flake graphite with purity of 99.9% is suitable for Li-ion battery manufacturing which is currently dominated by high-cost synthetic graphite. Current synthetic prices range from US$7,000-20,000 per tonne and Valterra is targeting this market with natural graphite products that may provide a distinct cost advantage.
Multi-disciplinary results from the project have been very encouraging and Valterra is planning an aggressive exploration program including the evaluation of near surface geophysical anomalies, prospecting, and diamond drilling several targets located mainly in the Discovery Zone trench area as well as other targets on this large +160 sq. km property.
About Graphite
Graphite is a naturally occurring form of carbon with wide-ranging and unique physical properties. It is an excellent conductor of heat and electricity and has outstanding lubrication properties and is very resistant to chemical corrosion. Graphene is derived from graphite and is one of the strongest and lightest known substances with a tensile strength 200 times the strength of steel. The industrial development of graphene is at an early stage but will eventually become a replacement for several expensive electronic components such as silicon semi-conductors. Graphite occurs naturally as vein, flake, and amorphous where the highest quality product can command prices in excess of $2,000 per tonne. In pricing graphite, the flake size and purity are key factors with the large flake at +0.178mm and purity at +99% Cg commanding the highest prices in markets dominated by multi-national eco-automobile manufacturers, high-tech industries and nuclear energy companies. Recent pricing and demand increases have accelerated numerous exploration and investment opportunities in the graphite market.