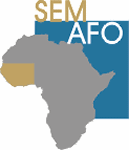 MONTREAL, QUEBEC -- (Marketwired) -- 05/13/13 -- SEMAFO (TSX: SMF)(OMX: SMF) today reported its financial and operating results for the three-month period ended March 31, 2013. All amounts are in US dollars unless otherwise stated.

First Quarter 2013 in Review


--  Gold production of 59,700 ounces, a decrease of 2% compared to the same    period in 2012--  Gold sales of $106.1 million, a 6% increase compared to the same period    in 2012--  Non-cash impairment charge of $35.1 million at the Samira Hill Mine--  Operating loss of $1.7 million compared to an operating income of $38.0    million in the same period in 2012--  Net loss attributable to equity shareholders of $7.3 million or a loss    of $0.03 per share compared to net income attributable to equity    shareholders of $28.1 million or $0.10 per share in the same period in    2012--  Adjusted operating income(1) of $33.4 million compared to $38.0 million    in the same period in 2012--  Adjusted net income(1) attributable to equity shareholders of $19.7    million or $0.07 per share(1) compared to $28.1 million or $0.10 per    share in the same period in 2012--  Cash flow from operating activities(2) of $38.8 million or $0.14 per    share compared to $40.2 million or $0.15 per share in the same period in    2012--  Delineation drilling at Mana's Siou sector confirms mineralization and    extension--  On track to issue mineral reserve estimate for the Siou Sector in Q3    2013--  Declaration of a dividend of C$0.02 per share as of May 13
(1) Adjusted operating income, adjusted net income attributable to equity shareholders and adjusted basic earnings per share are non-IFRS financial performance measures with no standard definition under IFRS. In the three-month period ended March 31, 2013, the adjusted operating income excludes the charge of $35,100,000 related to the impairment of non-financial assets of the Samira Hill Mine, while the adjusted net income attributable to equity shareholders and the adjusted basic earnings per share also exclude the non-controlling interest impact totalling $8,148,000 related to these transactions.
(2) Cash flow from operating activities excludes changes in non-cash working capital items.
A Word from the CEO
2012 was a year of transition for our Corporation, and it was in a tumultuous gold market and a difficult mining industry in general that we began 2013. Gold plummeted to a 2-year low and our stock price suffered the consequences.
Operationally, SEMAFO had a good start to the year. In the first quarter, we generated cash flow from operating activities of $38.8 million ($0.14 per share) compared to $40.2 million ($0.15 per share) in the first quarter of 2012. We produced almost 60,000 ounces of gold during the first three months of this year, while maintaining the total cash cost per ounce below our 2013 guidance.
Our flagship Mana property produced 42,700 ounces of gold, representing over 70% of our total production. Mana's total cash cost was $709 per ounce, a six percent decrease compared to $746 in the fourth quarter of 2012.
It is important to reiterate that we are focusing on quality ounces. In this regard, our top priority is to fast-track the Siou Sector in order to commence stripping during the fourth quarter of 2014 at the latest. The recent volatility in the price of gold reinforces our decision to accelerate the development of the high-grade Siou Sector, which has low sensitivity to gold price fluctuations.