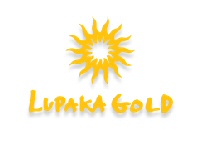 VANCOUVER, BRITISH COLUMBIA -- (Marketwired) -- 05/13/13 -- Lupaka Gold Corp. ("Lupaka Gold" or "the Company") (TSX: LPK)(LMA: LPK) reports performance highlights and financial results for the fiscal quarter ended March 31, 2013. The following is taken from the Company's interim Management's Discussion and Analysis and unaudited consolidated financial statements, both of which are filed at www.sedar.com.

Overall Performance

The Company is a mineral exploration company involved in the acquisition and assessment of mineral properties in Peru. Lupaka Gold's common shares trade on the Toronto Stock Exchange ("TSX") and on the Borsa de Valores de Lima ("BVL", otherwise known as the Lima Stock Exchange) under the symbol LPK, and its share purchase warrants trade on the TSX under the symbol LPK.WT.

The Company's activities and events of note since January 1, 2013 are as follows:


--  On February 27, 2013, the Company announced an updated NI 43-101    compliant Indicated and Inferred mineral resource estimate for the    Crucero Gold Project. The updated resource estimate was prepared by    Tetra Tech WEI Inc. ("Tetra Tech"), formerly Wardrop Engineering, of    Vancouver, Canada, and reported an indicated resource of 31.4 million    tonnes at 1.01 gold grams per tonne (g/t) capped grade for 1,017,999    gold ounces and an inferred resource of 37.2 million tonnes at 1.00 g/t    capped grade for 1,190,526 gold ounces at the A-1 Zone. Both the    inferred and indicated categories now have a gold grade of 1 g/t or    higher as a result of the 2012 drill results. Compared to the March 2012    resource update, these results represent an 11% decrease in the    indicated resource and an 84% increase in the inferred resource, for the    A-1 Zone (see "Mineral Project" below);--  Lupaka Gold's common shares were listed for trading on the BVL in    February 2013, under the symbol LPK.
Outlook
The Company's primary priorities are to continue its mineral exploration and development activities on the Crucero Gold Project, to review potential options regarding the Invicta Gold Project, and to maximize the potential return on its investment in Southern Legacy Minerals.
The Company will also remain vigilant towards the potential acquisition of interests in other mineral resource properties in Peru that are assessed to be of merit.
Financial Highlights
All amounts are in Canadian Dollars unless otherwise stated.
Unaudited financial results for the three month periods ended March 31, 2013 and 2012 are summarized as follows:
                                                    Three month period ended                                                            March 31                                                    ------------------------                                                            2013        2012                                                        ($000's)    ($000's)                                                    ------------------------Operating expensesExploration                                                1,658         669General and administration                                   873         764                                                    ------------------------Operating loss                                             2,531       1,433Impairment loss on available-for-sale financial asset                                                       985           -Finance expense - accretion                                    -          22Finance income - interest                                   (27)        (12)Foreign exchange loss (gain)                                 (9)          23                                                    ------------------------Loss for the period                                        3,480       1,466                                                    ------------------------                                                    ------------------------Loss per share - Basic and diluted                         $0.04       $0.03                                                    ------------------------                                                    ------------------------