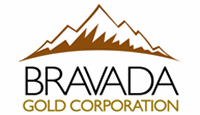 VANCOUVER, BRITISH COLUMBIA -- (Marketwired) -- 05/13/13 -- Bravada Gold Corporation (TSX VENTURE: BVA)(FRANKFURT: BRT) ("Bravada" or the "Company") announced today that Argonaut Gold Inc. (AR.T, "Argonaut") has elected to relinquish its option to purchase the Company's Wind Mountain gold and silver property, located in northwestern Nevada and, accordingly, Bravada holds an unencumbered 100% ownership of the property subject to a 2% NSR payable to the Vendor of the property, subject to a "buydown" of 1% thereof for $1 million. Bravada plans additional in-fill drilling of the highest-grade portion of the resource together with engineering studies in preparation for a planned pre-feasibility study and continuation of mine permitting submissions. The Company also announced today final assays from the most recent drilling program, which consisted of seven reverse-circulation holes that further tested two exploration targets and an expansion of the Breeze resource. The goal of this program was to identify new oxide mineralization that would add to Bravada's existing NI-43-101 resource at Wind Mountain, which consists of 570,000 ounces of gold and 14.7 million ounces of silver in the Indicated category and an additional 354,000 ounces of gold and 10.1 million ounces of silver in the Inferred category (see Table below and news release NR-06-12 dated April 11, 2012 for details).

President Joe Kizis commented, "We thank Argonaut for its funding of exploration efforts at Wind Mountain. The two Argonaut-funded drilling programs tested alluvial-covered areas which we believed could have undiscovered significant oxide resources, including two areas which are ideally suited for heap-leach sites. These two areas can now be designated as heap-leach sites, significantly reducing estimated haulage costs compared to the costs utilized for the heap-leach site modelled in the project's 2012 PEA. Bravada plans to re-evaluate the Wind Mountain deposit utilizing a two-phase mining scenario, with Phase I focusing on development of the shallow, higher-grade core of the deposit."

Shoshone Pediment

Baker Hughes OilField Operations, Inc. has notified Bravada that it has commenced a reverse-circulation drilling program at Bravada's Shoshone Pediment gold project. The program, designed to test for the presence of barite mineralization, will consist of 12 or 13 reverse-circulation holes (approximately 1,150 meters in total). The property is located along the Battle Mountain-Eureka Gold trend, which, in the project area, overlaps one of Nevada's most important regions for barite production. Baker Hughes has the option to acquire 100% of any barite ore, whereas Bravada will retain all other mineral rights, including gold, and will receive a split of the drill samples from the barite drilling for its independent geologic logging and assaying.

Baker Hughes makes annual payments to Bravada and pays claim maintenance fees during the option period and during any subsequent barite mining. Baker Hughes can exercise an option by paying to Bravada an option fee anytime within the six-year option period terminating in April 2015. Bravada will receive a quarterly royalty payment on any barite production greater than 150,000 tons. Should there be a discovery of both barite and other metals; each company would have the right to mine their respective minerals while stockpiling minerals belonging to the other party.