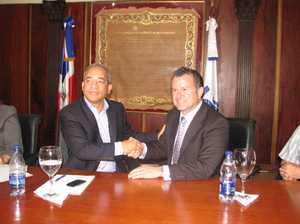 Ruben Jimenez Bichara, Executive Vice President of the CDEEE, Greg Michaels, CEO of SCT&E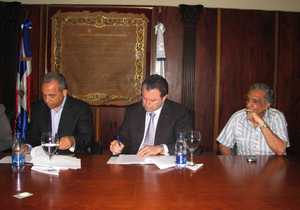 Ruben Jimenez Bichara, Executive Vice President of the CDEEE, Greg Michaels, CEO of SCT&E and Jose Rafael Santana, President of the CDEEE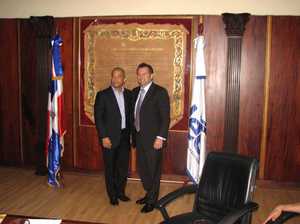 Ruben Jimenez Bichara, Executive Vice President of the CDEEE, Greg Michaels, CEO of SCT&E


LAGUNA BEACH, CA and SANTO DOMINGO, DOMINICAN REPUBLIC -- (Marketwired) -- 05/10/13 -- US-based North Energy Central (NEC), a subsidiary of Southern California Telephone & Energy (SCT&E), signed an MOU with the Dominican Republic State-owned Electric Utility (CDEEE) to install a 400 MW natural gas-fired power plant in Manzanillo, in the Northwest province of Montecristi.

The estimated USD$800 million investment for the development of this energy project is supported through private funds. The Dominican Republic will not incur any financial expense other than paying for the electricity they use. Most of the equipment planned to be used on the natural gas fired plant and project is "Made in America," as part of the free trade agreement between the USA and Dominican Republic, thus expanding relationships between the two countries.

In addition to the power plant, NEC has informed sources that the transaction will include natural gas-supply contracts based on NYMEX prices, not only to power the plant, but also to meet the CDEEE's immediate needs to convert its oil-based Energy Park. The 400 MW generation project will provide relief to the people of the Dominican Republic who currently pay extremely high electric utility rates.

According to a US State Department fact sheet dated October 22, 2012, US relations with the Dominican Republic are excellent. With the largest economy in the Caribbean and the second-largest Caribbean country in terms of population, the Dominican Republic is an exceptional location for economic opportunity. Their economy rebounded from the global recession in 2010-2011 and remains today one of the fastest growing Representative Democracies in the region.

The majority of the Dominican Republic's GDP comes from tourism and related industries in spite of chronic energy shortages and daily rolling blackouts. Its proximity to the United States and similarity in time zones make doing business with the Dominican Republic an extremely desirable pursuit for NEC and SCT&E. Building, operating, and owning a power generation plant in the Dominican Republic falls right in line with the company's current focus. NEC and SCT&E are targeting emerging markets, like that of the Dominican Republic, for Power Plant generation projects, Liquefied Natural Gas opportunities, and other energy solutions.