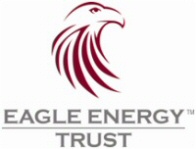 CALGARY, ALBERTA -- (Marketwired) -- 05/10/13 -- Eagle Energy Trust (the "Trust") (TSX: EGL.UN) is pleased to report its financial and operating results for the first quarter 2013. The Trust's unaudited interim condensed consolidated financial statements for the three months ended March 31, 2013 and related management's discussion and analysis have been filed with the securities regulators and are available on the Trust's website at www.EagleEnergyTrust.com or on SEDAR at www.sedar.com.

In this press release, references to "Eagle" include the Trust and its operating subsidiaries. This press release contains statements that are forward looking. Investors should read the Note Regarding Forward-Looking Statements at the end of this press release.

Highlights for the three months ended March 31, 2013


--  First quarter 2013 average working interest sales volumes of 2,928    barrels of oil equivalent per day ("boe/d") exceeded Eagle's first    quarter plan and were unchanged from fourth quarter 2012 production    levels.--  Eagle maintained fourth quarter 2012 production levels throughout the    first quarter of 2013 while spending less than 20% of its 2013 capital    budget. Over 60% of Eagle's 2012 capital program occurred in the last    half of 2012, resulting in a substantial portion of fourth quarter 2012    production from new wells being comprised of normal flush production.    Eagle's first quarter 2013 results demonstrate both improved operations    execution as well as a significantly lower corporate decline rate    compared to market consensus regarding prior periods.--  Average working interest production was 2,928 boe/d (87% oil, 7% natural    gas liquids, 6% natural gas). From this base, the Trust remains on track    to meet its 2013 full year production guidance of 2,900 to 3,100 boe/d.    Eagle commenced its 2013 drilling program in April.--  Achieved a 37% reduction in field operating costs (excluding    transportation) compared to first quarter 2012, and a 20% reduction    compared to the fourth quarter 2012. Total field operating costs,    including transportation, were $11.18 per boe. The significant reduction    was primarily due to improved operating procedures, including reducing    salt water disposal costs, resizing submersible pumps and negotiating    lower power contracts.--  2013 funds flow from operations was $11.9 million, up 30% from the first    quarter of 2012 and up 20% from the fourth quarter of 2012.--  Top-decile first quarter field netbacks were $52.59 per boe. Canadian    dollar realized oil prices were 103% of benchmark $US WTI. Premium    pricing negotiated by Eagle in its 2013 marketing arrangements    contributed to top decile per boe field and operating netbacks, giving    Eagle a substantial revenue advantage over producers of Canadian oil.--  First quarter distributions held steady at $0.26 per unit or $0.0875 per    unit per month without increasing debt per unit from the fourth quarter    2012.--  On April 22, 2013, Eagle acquired the remaining 7.5% interest in its oil    and natural gas properties in the Permian Basin located near Midland for    cash consideration of approximately $US 8.5 million (the "Acquisition").    The Acquisition adds approximately 70 boe/d of production. The Trust now    owns 100% working interest these properties.--  Upon completion of the 2012 year end reserves report and the closing of    the Acquisition, the borrowing base under Eagle's credit facility was    increased from $US 48.5 million to $US 61.0 million. The credit facility    was syndicated to include a second major Canadian chartered bank as a    new lender.