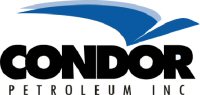 CALGARY, ALBERTA -- (Marketwired) -- 05/10/13 -- Condor Petroleum Inc. ("Condor" or the "Company") (TSX: CPI) is pleased to announce the release of its unaudited Consolidated Financial Statements for the period ended March 31, 2013, together with the related Management's Discussion and Analysis ("MD&A"). These documents will be made available under Condor's profile on SEDAR at www.sedar.com and on the Condor website at www.condorpetroleum.com. All financial amounts in this news release are presented in Canadian dollars.

Q1 2013 highlights include:


Marsel territory--  On April 22, 2013, Condor's wholly owned subsidiary entered in to a    binding agreement to sell its 66% participating interest in, and certain    indebtedness of, Marsel for US $88.0 million, subject to various waivers    and consents from the government of Kazakhstan and subject to the    satisfaction of certain commercial conditions typical for transactions    of this nature.Zharkamys West 1 territory--  Kazakhstan production increased to 559 bopd in the first quarter of 2013    compared to 22 bopd in the first quarter of 2012 due mainly to Shoba    trial production. As a result, Company revenues increased 192% to $2.3    million.--  The KN-E-201 well was drilled and completed during the quarter and    discovered oil; 58 meters of net hydrocarbon pay was identified from    wireline and mud logs with an additional 16 meters of pay indicated from    mudlogs without wireline log data.--  The first appraisal well, KN-E-202, was spud in April 2013 and the    target zone is expected to be penetrated in May 2013.--  The ninety day production testing program for the K N-E-201 discovery    well has been approved and testing is expected to commence as planned in    June 2013.--  Approval for a two year exploration period has been granted which    extends the exploration term until August 27, 2015--  Detailed seismic interpretation and geologic mapping have generated an    exploration portfolio of 66 prospects ranging from shallow Cretaceous to    deep Devonian targets and an internal Company estimate of 1,550 MMboe    unrisked mean recoverable resources.
About Condor Petroleum Inc.
Condor is an oil and gas corporation engaged in the exploration for, and the acquisition, development and production of oil and natural gas in Kazakhstan and Canada. Condor holds a 100% interest in the oil and natural gas exploration rights to the 2,610 km2 Zharkamys West 1 territory located in Kazakhstan's Pre-Caspian basin, a 66% interest in the oil and natural gas exploration rights to the 18,500 km2 (gross) Marsel territory located in Kazakhstan's Chu-Sarysu basin and operates certain properties and holds non-operated working interests in a number of other properties in Alberta, Canada.
Resource Advisory
This press release includes information pertaining to internal Condor generated estimates of Company resources effective February 8, 2013, which were prepared by a qualified reserves evaluator in accordance with National Instrument 51-101.
Statements relating to resources are deemed to be forward looking statements, as they involve the implied assessment, based on certain estimates and assumptions, that the resources described exist in the quantities predicted or estimated, and can be profitably produced in the future. Many of these assumptions are subject to change and are beyond the Company's control.