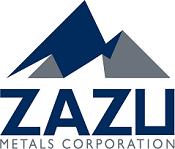 VANCOUVER, BRITISH COLUMBIA -- (Marketwired) -- 05/01/13 -- Zazu Metals Corporation (TSX: ZAZ) ("Zazu") is pleased to announce a second Cost Reimbursement Agreement ("CRA") with Alaska Industrial Development and Export Authority ("AIDEA"). This agreement funds studies commissioned by AIDEA to evaluate Zazu's use of AIDEA's haul road and port that currently services Teck's Red Dog Mine.

This follows the successful completion of the original CRA, that funded AIDEA commissioned studies assessing the viability of the Lik Project. These studies satisfied AIDEA's requirement that the project demonstrate sufficient viability to warrant further support.

AIDEA's haul road and port are collectively known as the Delong Mountain Transportation System ("DMTS"). AIDEA financed the construction of the DMTS specifically to develop regional resources such as Lik and the Red Dog Mine. The second CRA studies will:


--  Determine if modifications are required for handling Lik concentrate,    based on current mine output expectations;--  Produce a Term Sheet detailing the expected cost for Zazu to use DMTS.
These studies will contribute to the Lik Project's feasibility study, identifying Zazu's expected cost and obligations with regard to regional infrastructure requirements.
AIDEA is an enterprise corporation owned by the State of Alaska. Its mission is to fund infrastructure projects considered to economically benefit the State.
The zinc market will be faced with several large mine closures over the next five years, with limited potential for replacement. Zazu aims to develop the Lik Deposit to deliver into this expected supply shortfall. Zazu's completed multiple significant steps towards achieving this goal:
--  A positive Preliminary Assessment Study by Scott Wilson RPA, Inc., in    2010;--  Production of a very clean, desirable concentrate from three rounds of    metallurgical testing;--  Working mine and infrastructure designs developed from multiple    engineering studies;--  Sufficient data for initiating environmental permitting from    comprehensive environmental monitoring programs;--  Identifying substantial deposit expansion potential through successful    exploration;--  Bringing the majority of permitting under the purview of the State of    Alaska by conversion of Zazu's Federal claims to State level claims.
Consequently Zazu is uniquely positioned with a large, high grade deposit with no obvious impediment to development that is entering the feasibility study stage. Zazu is in the enviable position of having a limited number of shares outstanding, a strong treasury and no debt.
Roscoe Postle Associates Inc., (RPA), formerly Scott Wilson Roscoe Postle Associates Inc., completed an updated Mineral Resource estimate in May of 2009. Its estimate of Lik South is an Indicated Mineral Resource of 18.74 million tonnes grading 8.08% zinc, 2.62% lead and 52.8 g/t silver; plus an Inferred Mineral Resource of 1.23 million tonnes grading 6.80% zinc, 2.12% lead and 35 g/t silver, at a 5% cut off grade. Lik North is an additional 5.18 million tonnes grading 9.65% zinc, 3.25% lead and 51 g/t silver of Inferred Resource at a 7% cut off grade. Mineral resources that are not mineral reserves do not have demonstrated economic viability.