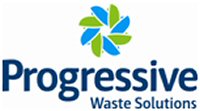 TORONTO, ONTARIO -- (Marketwired) -- 05/01/13 -- Progressive Waste Solutions Ltd. (the "Company") (TSX: BIN)(NYSE: BIN) reported financial results for the three months ended March 31, 2013.


--  Consolidated revenues of $486.6 million in the first quarter, up 11.0%--  Consolidated organic revenue growth of 1.8%. Excluding the 0.5% decline    in revenues due to lower recycled commodity prices, organic revenue grew    2.3% versus the same period a year ago--  Adjusted EBITDA(A) of $129.1 million, up 11.0%, and adjusted operating    income or adjusted operating EBIT(A) of $58.4 million, up 10.1%--  Free cash flow(B) of $44.9 million, up 2.6%; Excluding internal    infrastructure investments, free cash flow(B) of $59.3 million, up 25.2%--  Reported and adjusted net income per share(A) of $0.25 and $0.24,    respectively, versus $0.19 and $0.20 in the same period last year
Management Commentary
(All amounts are in United States ("U.S.") dollars, unless otherwise stated)
"We are pleased with the results of our first quarter, in which we achieved solid revenue and earnings growth," said Joseph Quarin, Vice Chairman and Chief Executive Officer, Progressive Waste Solutions Ltd. "Consolidated revenues and adjusted EBITDA(A) both increased 11.0% in the period, while adjusted operating EBIT(A) increased 10.1%, principally on higher operating income. Our growth was driven by contributions from the strategic 'tuck-in' acquisitions we completed last year, as well as by improvements in our organic base of revenues. On a consolidated basis, organic revenues increased 2.3%, if we exclude the revenue decline of 0.5% related to lower recycled commodity prices, compared with the first quarter a year ago. Core price increased by 1.2% on a consolidated basis, representing total price growth across all of our collection and transfer and disposal operations, reflecting our focused pricing initiatives. Our customer retention and sales execution programs contributed to consolidated volume growth of 0.8%, and our U.S. northeast segment also experienced higher-than-anticipated waste volumes related to Superstorm Sandy ("Sandy") clean-up efforts, which we believe are now largely completed. The additional activity in our U.S. northeast segment offset lower volumes in Canada related to three municipal contracts that concluded in the third and fourth quarters of 2012. Against this backdrop, we remain confident that we are on track to deliver on our outlook for 2013 that we provided on February 14, 2013."
"Therefore," Mr. Quarin continued, "we are reaffirming our guidance for 2013 on all measures, which includes estimated revenue of $2.00 to $2.02 billion, adjusted EBITDA(A) of $545 to $555 million, and free cash flow(B) of $200 to $215 million, excluding additional internal infrastructure investment of $40 to $45 million. Our outlook reflects expected contributions from our internal infrastructure investments and several new municipal contracts we previously announced, which together will mitigate the impact of municipal contracts that concluded in Canada and the scheduled closure of our Calgary landfill in mid-2013. Our guidance for the year assumes foreign exchange at parity, no change in the current economic environment and an average price per ton of recyclable materials equal to the 2012 average price per ton that we obtained in our markets."