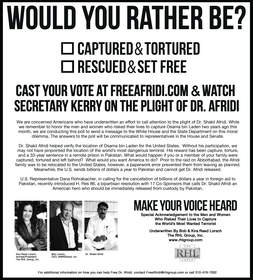 Free Dr. Afridi Ad & Poll from RHL Group



LOS ANGELES, CA -- (Marketwired) -- 05/01/13 -- Underwriters MMRGlobal CEO Robert H. Lorsch and RHL Group President Kira Reed Lorsch today announced a "Free Afridi" campaign directed to the military and their families through Military Times. Dr. Shakil Afridi is the man who risked his life to verify the location of Osama bin Laden for the United States. The campaign calls for enlisted military and their families to participate in a poll that asks, Which would you rather be? Captured and Tortured, or Rescued and Set Free. Military Times readers are directed to the poll at www.FreeAfridi.com where they can cast their vote.

Considered by many as an American Hero, Dr. Afridi's reward for helping locate bin Laden has been to be captured, tortured and sentenced to 33 years in a remote Pakistani prison. The campaign calls attention to Dr. Afridi and Secretary of State John Kerry's comments on his plight and the moral dilemma that has left Dr. Afridi behind. Ads in the campaign also ask what would happen if you or a member of your family were captured, tortured or left behind, what would you want America to do?

The campaign starts today with banner ads in www.MilitaryTimes.com, www.ArmyTimes.com, www.NavyTimes.com, www.AirforceTimes.com and www.MarineCorpsTimes.com, linking to the poll at FreeAfridi.com. On May 13th, a magazine-size, full page ad will appear in all editions of Military Times. The May 13th issues, which are delivered worldwide starting May 6th, will be sent to 245,000 Active Duty, retired, enlisted and veteran subscribers and seen by an estimated 637,000 readers. The results of the poll will be sent to Congress, the State Department and the White House. Additional information about the Free Afridi campaign and a copy of the Military Times ad is also available at www.freeafridi.com.