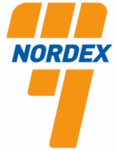 KIRKLAND LAKE, ONTARIO -- (Marketwired) -- 05/01/13 -- NORDEX EXPLOSIVES LTD. ("Nordex" or the "Company") (TSX VENTURE: NXX) is pleased to announce the opening of a second planned strategic site. The facility is located on Manitoulin Island and is close to established large quarry operations. This will allow Nordex to continue to diversify and grow its revenues in non-mining sectors. The new site has been licensed as a factory site which permits both the storage and distribution of explosives and also allows for permitted blending, mixing and processing of explosives on site.

As previously announced, one part of the growth strategy for Nordex Explosives Ltd. identified the need for additional distribution sites to increase our ability to serve new clients and better service existing clients by increasing our geographic radius of operations. This site was chosen specifically in order to supply explosives to large quarry operations in the immediate vicinity. The location also provides Nordex with regulatory approval to solicit and service additional construction, quarry and mining clients within a new geographic market area not previously available to Nordex.

The completion of the site will allow Nordex to expand its business beyond its traditional market area and pursue more opportunities with existing and potential clients in a new region.

Jim Taylor, President, CEO stated; "We have been working on this type of initiative for many months as we continue to execute our expansion plans to drive profitable revenue growth in non-mining markets. This is the second such location announced and is an important milestone in the strategic growth plan of Nordex. All of the necessary licenses and permits are in place and we are now positioned to compete for further market share in a new geographic area. We will continue to aggressively follow our growth strategy in the coming months as we open additional new sites and continue to identify and expand into new regions."

Nordex continues to develop a reputation for providing the best technical support and client service in the explosive industry. In addition, Nordex has developed and operates its own fleet of specialty vehicles to support the sale and timely delivery of its products and services.

Nordex is recognized as an innovator and leader in the field of bulk and packaged emulsion products. This includes the development of unique bulk emulsion delivery systems for both surface and underground applications. As the market continues to move towards a wider acceptance of new technology and product solutions, Nordex will actively pursue and expects to acquire an increased share of the explosives market in Canada. Negotiations are ongoing with potential clients, new factory and satellite sites are being established, technology to manufacture new products is being developed and the outlook for the future continues to be promising.

Update on Melba Property

Further to its press release of April 29, 2011, the option agreement with Benton Resources Corp. did not proceed due to certain issues with respect to title to the Company's Melba property which were uncovered during the due diligence process. These issues related to certain deficiencies in the documentation when the company acquired the property some years ago, resulting in the Company being unable to transfer clean title to the property. The Company has now filed the necessary documents with the Ministry of Northern Development and Mines (MNDM) in order to rectify these deficiencies and expects to receive the necessary consents and approvals with respect to title to the properties from the MNDM over the next four to eight weeks, although there can be no assurances that such consents and approvals will be received when expected. Following completion of this process, the Company will evaluate its options with respect to the Melba property.