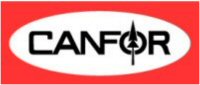 VANCOUVER, BRITISH COLUMBIA -- (Marketwired) -- 05/01/13 -- Canfor Pulp Products Inc. ("CPPI") (TSX: CFX) today reported net income of $10.9 million, or $0.15 per share, for the first quarter of 2013, compared to a net income of $5.4(1) million, or $0.08(1) per share, for the fourth quarter of 2012 and net income of $10.0(1) million, or $0.12(1) per share, for the first quarter of 2012.

The Company reported operating income of $19.0 million for the first quarter of 2013, an increase of $6.9 million from operating income of $12.1(1) million reported for the fourth quarter of 2012. The increase primarily reflected modest gains in Northern Bleached Softwood Kraft ("NBSK") pulp sales realizations coupled with a reduction in unit manufacturing costs. Included in results were certain one-time items with the current quarter results including a non-cash $1.5 million benefit from scientific research and development tax credits while the previous quarter included a $5.3(1) million accounting gain related to amendments to the Company's salaried post retirement benefit plans.

The following table summarizes selected financial information for the Company for the comparative periods(1):


                                                  Q1          Q4         Q1(millions of Canadian dollars, except pershare amounts)                                   2013       2012       2012---------------------------------------------------------------------------Sales                                       $   217.5  $   201.9  $   220.0Operating income                            $    19.0  $    12.1  $    11.5Net income                                  $    10.9  $     5.4  $    10.0Net income per share, basic and diluted     $    0.15  $    0.08  $    0.12------------------------------------------------------------------------------------------------------------------------------------------------------
Results in the first quarter of 2013 reflected a slight improvement in global softwood pulp markets resulting in prices slowly improving through the quarter. Global softwood pulp shipments and printing and writing demand were relatively flat compared to the previous quarter, with global softwood pulp producer inventory levels in March 2013 at 29 days supply, in line with the end of December 2012.
Compared to the previous quarter, the average NBSK pulp list price to North America increased US$34, or 4%, to US$897 per tonne. Sales to China and Europe were also up through the quarter, with pricing to China up US$16 per tonne and pricing to Europe up US$29 per tonne. Current quarter sales realizations did not match the full list price increases due to increased volumes into lower margin regions, principally China. A slight weakening of the Canadian dollar against the US dollar, down 2%, further contributed to improved Canadian dollar sales realizations.
Contributing to improved pulp segment results were a 5% increase in shipments from the previous quarter, principally reflecting higher volumes to China. Pulp production was up slightly from the previous quarter as a result of improved operating rates during the quarter. Unit manufacturing costs were down 3% from the previous quarter largely the result of lower maintenance costs coupled with the increased production levels, partially offset by seasonally higher energy costs and slightly higher fibre costs.