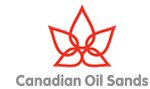 CALGARY, ALBERTA -- (Marketwired) -- 05/01/13 -- Canadian Oil Sands Limited (TSX: COS) (OTCQX: COSWF) ("COS") held its annual and special meeting of Shareholders in Calgary on April 30, 2013. A total of 276,198,118 shares were represented in person or by proxy.

During business proceedings at the meeting, COS presented its consolidated financial statements for the year ended December 31, 2012 and the auditors' report on the statements. Shareholders elected 11 Board members, including 10 independent directors, until the next annual general meeting. The voting results of shares represented at the meeting for individual directors were as follows:


Nominee Votes For Votes WithheldIan A. Bourne 248,145,622 (99%) 2,572,234 (1%)Marcel R. Coutu 243,792,612 (97%) 6,925,244 (3%)Gerald W. Grandey 248,240,244 (99%) 2,477,612 (1%)Arthur N. Korpach 248,408,287 (99%) 2,309,569 (1%)Donald J. Lowry 248,363,624 (99%) 2,354,232 (1%)Sarah E. Raiss 248,218,726 (99%) 2,499,130 (1%)John K. Read 248,136,758 (99%) 2,581,098 (1%)Brant G. Sangster 248,379,905 (99%) 2,337,951 (1%)C. E. (Chuck) Shultz 248,164,932 (99%) 2,552,924 (1%)Wesley R. Twiss 248,299,706 (99%) 2,418,140 (1%)John B. Zaozirny 246,212,247 (98%) 4,505,599 (2%)
The biographies of Board members and further details about COS' corporate governance practices are available on
www.cdnoilsands.com
.
All other resolutions presented at the meeting were also approved by Shareholders. For more information, view the Report of Voting Results available at:
http://www.sedar.com
.
An audio recording of the meeting is available at
www.cdnoilsands.com
, and will be archived for 90 days.
Canadian Oil Sands Limited
Canadian Oil Sands is a pure investment opportunity in light, sweet crude oil. Through our 36.74% interest in the Syncrude project, we offer a solid, robust production stream of fully upgraded crude oil, exposure to future crude oil prices, potential growth through high-quality oil sands leases and an attractive dividend.
For more information about Canadian Oil Sands please visit our web site at
www.cdnoilsands.com
.


Contacts:
Canadian Oil Sands Limited
Alison Trollope
Manager, Investor Relations
(403) 218-6220
invest@cdnoilsands.com
www.cdnoilsands.com