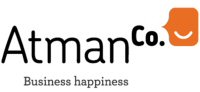 MONTREAL, QUEBEC -- (Marketwired) -- 05/01/13 -- AtmanCo Inc. ("AtmanCo" or the "Company") (TSX VENTURE: ATW), shares today its results for the 7-month period ending December 31, 2012. "The year was rich in positive outcomes moving the company forward with its projects, particularly regarding an investment in a reverse takeover by AtmanCo, which was one of the main objectives set forth by the enterprise during 2012." Stated AtmanCo president and CEO, Michel Guay.

On October 18, 2012, AtmanCo (formerly Biotonix (2010) Inc.) acquired the totality of outstanding shares of 9130-4519 Quebec Inc., a private corporation, in consideration of the issue of 15,000,000 of its own common shares at a price of $0.20 per share and in consideration of $150,000 payable as follows: $75,000 on the transaction date and $25,000 on the first, second and third anniversary dates, for a total consideration of $3,150,000. Direct costs of $129,047 relating to this transaction were accrued within the expenses attributable to the reversed takeover during the fiscal year ending December 31, 2012. The transaction was carried out in order to create a synergy and improve its shareholders' return by diversifying its activities.

Following this transaction, shareholders of 9130-4519 Quebec Inc. directly or indirectly hold 52% of AtmanCo's outstanding voting shares, thus allowing them to acquire a controlling interest in the Corporation. Consequently, the transaction was registered as a reverse takeover whereby 9130-4519 Quebec Inc. is considered the acquiring company and Biotonix (2010) Inc., the acquired company. As Biotonix (2010) Inc. is a corporation, the purchase method regarding the merger-and-acquisition process was applied.

Comparable data are those of 9130-4519 Quebec Inc., since according to an accounting perspective, it is considered the acquiring company. As to the activities of Biotonix (2010) Inc. they are included in the consolidated financial statements solely from the transaction date, i.e. October 18, 2012.


---------------------------------------------------------------------------- Dec 31, 2012 May 31, 2012 May 31, 2011 $ $ $ (7 months) (12 months) (12 months)----------------------------------------------------------------------------Consolidated statements of overall resultProducts 575,064 500,061 417,551Gross margin 411,837 454,568 391,700Gross margin in % 72% 91% 94%----------------------------------------------------------------------------Net income and overall result (608,887) (342,915) 1,076Net income per basic and fully diluted share (0.03) (0.02) 0.00----------------------------------------------------------------------------Consolidated statements of financial affairsCash and cash equivalents 1,187,941 (10,090) 2,554Total assets 3,575,135 1,073,137 301,105Total liabilities 980,578 2,308,821 1,193,874Equity 2,594,557 (1,235,684) (892,769)----------------------------------------------------------------------------
Above data comprise a summary of highlights. For further information, please consult the Corporation's consolidated financial statement as well as the Management Report for the fiscal year ending December 31, 2012 at
www.sedar.com
.
"The year 2012 allowed us not only to perceive a significant and growing interest in "FIT", i.e. your personality's compatibility for a given position and the company's culture through psychometric tests, but also that this process has become a must for corporations and recruiters. This is already evident in our business model with regard to the use of the Web platform by means of our customers' recurring/annual licence.
AtmanCo starts 2013 with great enthusiasm and energy thanks to the passion and dedication of the entire AtmanCo team," said AtmanCo's president and CEO, Michel Guay.
Certain information appearing in this press release may be of a "prospective" nature comprising known and unknown risks, uncertainties, forecasts and other factors liable to materially affect actual outcomes, performances or accomplishments of the Company or industry results compared to all results, performances or accomplishments arising expressly or implicitly from information of a prospective nature. When used in this press release, information may include terms such as "anticipate", "estimate", "may", "will", "expect", "predict that", "presume" or "contemplate" and other terminology. These particulars reflect current expectations concerning future events and operational performance, and are valid solely on the date of this press release. Unless required by law, we will assume no obligation to update or revise prospective information in order to convey new events or circumstances.
Additional information pertaining to the Company is available on SEDAR at
www.sedar.com
.
ATMANCO PROFILE
Field of human ressources
AtmanCo helps executives and managers recruit qualified human resources and place the right person in the right position. AtmanCo created the
Atman personality test
- a simple, accurate and scientifically proven psychometric test with four modules: At-Plus, At-Model, At-Match and At-Team. Each test and its modules identify factors that shape an individual's personality and influence their performance. User-friendly and easy to use, these proven tools for developing human potential integrate easily into the recruitment, organizational evaluation, and talent management processes.
Using a management interface (Web platform) that's among the most advanced in the world, you can quickly access the results of psychometric tests, compare profiles to job norms and generate sales, management and team complementarity reports. The versatile AtmanCo solution represents a key tool to significantly increase the success of your employees within your organization.
Field of cyberhealth
The Company's mission is to provide corporations as well as health and physical conditioning professionals with the means to enhance the value and efficiency of their customer services, to offer personalized corrective solutions for posture and physical condition, including exercise programs and eventually innovative orthoses destined to improve the well-being of people suffering from backaches or other musculoskeletal disorders and to improve people's physical and mental condition as well as their general health, by harnessing leading edge technologies in the fields of posture and biomechanics.
The Company stands out in its marketing approach via its Web site, direct sales and partner network. For further information, visit
www.atmanco.com
and
www.biotonix.com
sites.
The TSX Venture Exchange and its Regulatory Services provider (as per meaning assigned to this term in TSX Venture Exchange's policies) bear no liability as to the relevance or accuracy of this press release.


Contacts:
AtmanCo inc.
Michel Guay
President and CEO
514.935.5959 ext. 301
www.atmanco.com