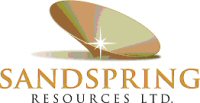 TORONTO, ONTARIO -- (Marketwired) -- 04/09/13 -- Sandspring Resources Ltd. (TSX VENTURE: SSP) ("Sandspring", or the "Company") is pleased to announce the completion of a robust and positive pre-feasibility study ("PFS") and initial mineral reserve estimate for its wholly-owned Toroparu Gold Project (the "Project") in the Republic of Guyana.

The PFS goes beyond the strong economics outlined in the Updated Preliminary Economic Assessment completed by the Company in 2012 (the "Updated PEA") to present a plan that provides several positive changes to the Project, including(1):


--  Estimated annual production of 246,000 ounces of gold at a mill head    grade of 1.32 g/t produced at a cash cost of $504(2) per payable ounce    of gold on average over the first four years and 228,000 ounces at a    cash cost of $700 per ounce on average over the 16 year life of mine.--  Proven and Probable mineral reserve of 4.1 million ounces of gold    contained in 127 million tonnes of ore at a grade of 1.00 g/t Au, a 32%    increase in life of mine gold grades.--  A redesign of the processing flow sheet to produce 78% of gold in dore    on site,--  After-tax NPV of US$691 million and IRR of 23.1% with an attractive    payback period of 2.6 years at a long-term gold price of $1400/ounce.(3)
"We are pleased to announce completion of the PFS for Toroparu, and are encouraged that pre-feasibility engineering confirms the robust economics of the Project," stated Yani Roditis, Sandspring's President and Chief Operating Officer. "Net of pre-production revenue, the estimated development capital expenditures total US$464 million, a reduction from the Updated PEA initial capital estimate, which we view as highly positive in the current inflationary cost environment for mining projects. Furthermore, mine plan optimization and design improvements during the PFS resulted in a life of mine capital reduction of $129 million. The PFS increases our confidence and belief that Toroparu is a project that should be built and therefore Sandspring will continue to move forward with final permitting and development of the Project."
Rich Munson, Chief Executive Officer stated, "We are delighted that the results of the PFS conducted by Yani and his team have confirmed the robust nature of the Project. We are encouraged by recent approaches from third parties expressing interest in developing Toroparu jointly with Sandspring. Despite the expressions of interest, we recognize that funding a project of this scale is challenging in the current environment. We have therefore engaged Cutfield Freeman & Co, a leading independent advisory firm in the mining sector, to conduct a process to determine the options available for financing the development of Toroparu and enhancing the value for our shareholders." Rich went on to say, "We have been in Guyana for nearly fifteen years and we have built strong relationships with Government and local stakeholders. Guyana is one of the few jurisdictions in the world welcoming responsible mining investment. The Government of Guyana has agreed to grant the Project a large-scale mining license authorizing Sandspring to commence production once economic feasibility of the project has been demonstrated. We are confident that the mine development plan outlined in this PFS is just the starting point for Sandspring not only because of the five million ounces of resource that lie just outside our current reserve pit shell and the ten promising gold anomalies within the recently identified 20 km alteration footprint around Toroparu, but also because of the pre-eminent geological team who continue to build an unequalled understanding of the potential of our extensive land position, as well as the regional potential of the large unexplored areas of northwestern Guyana and prolific western Guiana Shield greenstone belts."