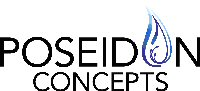 CALGARY, ALBERTA -- (Marketwired) -- 04/09/13 -- Poseidon Concepts Corp. ("Poseidon" or the "Company") (TSX: PSN) and various affiliates obtained an initial order (the "Order") from the Alberta Court of Queen's Bench (the "Court") providing creditor protection under the Companies' Creditors Arrangement Act (Canada) ("CCAA"). Concurrent with the CCAA filing, Mr. Dean Jensen and Mr. Harley Winger tendered their resignations as directors to the Company, the Special Committee was disbanded and Mr. Dawson has resigned as the Company's Interim CEO. The Company's Board of Directors is now comprised of Mr. Scott Dawson and Mr. Neil Richardson.

While under CCAA protection, the Company will continue operating, under the supervision of a Court- appointed monitor, PricewaterhouseCoopers Inc. (the "Monitor"), who will be responsible for reviewing Poseidon's ongoing operations, assisting with the development and filing of a Plan of Arrangement ("Plan") that is established by the Company, liaising with creditors and other stakeholders and reporting to the Court. The Board of Directors will be primarily responsible for determining whether a Plan for restructuring the Company's affairs is feasible. In addition, the Company has secured interim financing from a third party lender (the "Interim Lender") to finance Poseidon's working capital requirements and other general corporate purposes and capital expenditures. Poseidon has retained Ernst & Young Orenda Corporate Finance Inc. as its financial advisor (the "Financial Advisor") to assist the Company with, among other things, soliciting and evaluating offers for a transaction involving Poseidon's business.

As provided for under the Order, the Financial Advisor will conduct a process to solicit offers for a transaction involving Poseidon's business, which may include a sale of all of Poseidon's assets, a reorganization, a recapitalization or a restructuring of its existing loans. The process will commence with information packages describing Poseidon's assets being distributed to prospective bidders on or about April 10, 2013. Bids will be due by not later than May 15, 2013 (the "Bid Deadline"). Unless extended by the Monitor in consultation with the Financial Advisor, secured creditors, Interim Lender and Poseidon, a proposed transaction must be approved by the secured lenders, and close within 30 days of the Bid Deadline. The completion of a transaction will be subject to the satisfaction of a number of conditions, including Court approval. Further details regarding the CCAA process will be available at http://www.pwc.com/car-poseidon.

CCAA protection enables the Company to continue operating until the CCAA status changes. The implications of this process for the Company's shareholders is not expected to be known until the end of the restructuring process. If Poseidon has not filed a Plan or obtained an extension of the CCAA protection by May 9, 2013, creditors and others will no longer be stayed from enforcing their rights. Poseidon will be taking steps to have the Court's CCAA Order recognized in the United States.