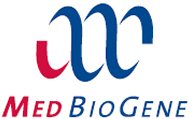 VANCOUVER, BRITISH COLUMBIA -- (Marketwired) -- 04/09/13 -- Med BioGene Inc. (TSX VENTURE: MBI) today reported its financial results for 2012 (all amounts are in United States dollars).

Erinn B. Broshko, MBI's Executive Chairman, commented: "2012 and the beginning of 2013 has seen Med BioGene hit some very important milestones. In respect of our commercialization efforts, our commercial partner, Precision Therapeutics, successfully completed their final clinical studies in advance of the expected launch of GeneFX® Lung by mid of 2013. In respect of our litigation with Signal Genetics LLC and Respira Health LLC, we had a recent significant victory in the Supreme Court of the State of New York and are confident that we will be successful in having the remaining claims and causes of action dismissed. Lastly, in respect of our cash position, we restructured our future milestone payments with Precision such that, upon the expected launch of GeneFX Lung, MBI believes that it will have enough cash resources with receipt of the first milestone payment to fund operations until approximately the third quarter of 2015. We are very pleased with our progress and are confident in the commercial prospects of GeneFx Lung."

Recent Business Highlights

Change of Marketing Name of Lung Cancer Test

On March 27, 2013, MBI announced that Precision Therapeutics has decided upon a new marketing name for GeneFx Lung. Instead of LungExpress Dx, Precision plans to market the test under the brand name GeneFx Lung.

Precision expects to commence commercialization of GeneFx Lung through its CLIA-certified laboratory by mid-2013.

Precision currently markets a number of tests through its CLIA-certified laboratory, including ChemoFx®, BioSpeciFx®, miRview®mets2 and GeneFx® Colon. Both GeneFx Colon and GeneFx Lung are gene expression-based tests and, accordingly, share the brand name GeneFx.

Successful Completion of GeneFx Lung Clinical Studies

On January 23, 2013, MBI and Precision announced that Precision had successfully completed their previously announced clinical studies to validate the use of GeneFx Lung with tissue preserved by RNAlater®, a molecular fixative.

RNAlater eliminates the need to flash-freeze specimens and to keep specimens frozen throughout storage and transport, a process that can be cumbersome and costly. It also eliminates the need for preserving tissue in formalin, which is known to cross-link and degrade the nucleic acids rendering them less suitable for specific downstream molecular applications.

The clinical studies were conducted using patient specimens prospectively accrued by Precision from a consortium of medical centers in the United States.

In advance of commercialization, Precision has established an advisory board comprised of world leaders in lung cancer research and treatment from the United States, Canada, France and Italy.

"Precision's efforts in commercializing this important test underscores our ongoing commitment to improving the outcomes of cancer patients by providing personalized medicine solutions that aim to increase quality of life and cancer survival rates," said Sean McDonald, Precision's President and Chief Executive Officer. "The successful completion of our clinical studies provides further evidence of the robustness of our test and we are moving closer to providing patients and doctors with a tool to address a critical unmet need."