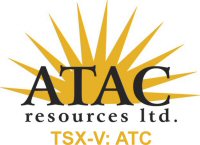 VANCOUVER, BRITISH COLUMBIA -- (Marketwired) -- 04/09/13 -- ATAC Resources Ltd. (TSX VENTURE: ATC) is pleased to provide an overview of its initial 2013 exploration and drilling program for its 100% owned Rackla Gold Project in east-central Yukon. The program will focus on definition drilling of high-grade at or near-surface discoveries within the Nadaleen Trend at the Sunrise, Isis East and Anubis Zones and continue to advance regional exploration targets identified in late 2012 elsewhere within the Nadaleen and Rau Trends.

ATAC's Rackla Gold Project covers an area of 1,700 sq/km and hosts Canada's first Carlin-type gold discoveries. The project area is divided into two distinct trends: (i) the 50 km long Nadaleen Trend which hosts Carlin-type mineralization at the Conrad, Osiris, Isis East, Sunrise and Anubis Zones: and (ii) the 20 km long Rau Trend which hosts the Tiger Gold Deposit, Ocelot silver-lead-zinc-tin discovery and the new Bengal gold showing. Property-wide regional exploration has outlined ten Tier 1 Carlin-type gold targets within the Nadaleen Trend as well as multiple anomalous targets within the Rau Trend.

NADALEEN TREND

Osiris Area

The 3 by 4 km Osiris area contains the Conrad, Osiris, Isis East and Sunrise Carlin-type gold zones. The majority of drilling in 2013 will be on the new Sunrise discovery and Isis East Zone where drilling to date has confirmed high-grade at or near-surface gold mineralization that remains open in all directions.


--  The Sunrise Zone is located upslope of a strong, untested 320 by 240 m    gold-in-soil geochemical anomaly. The discovery hole collared in    mineralization and returned 14.86 m of 10.54 g/t gold in OS-12-173. Only    three holes to date have tested the Sunrise Zone;--  Drilling at the Isis East Zone in 2011 and 2012 confirmed significant    widths, grade and down-dip potential. The Isis East mineralized zone    measures 200 m in strike length by 30 m width and to a depth of 150 m.    Highlight drilling intersected 27.43 m of 6.28 g/t gold in OS-12-120;--  Based on 99 drill holes, the current strike length of the Conrad Zone is    800 m and it remains open along strike and at depth. Highlight drilling    intersected 42.93 m of 18.44 g/t gold in OS-12-114; and,--  The current strike length of the Osiris Zone is 800 m and it remains    open along strike and at depth. The Carlin-type mineralization discovery    drill-hole intersected 65.20 m of 4.65 g/t gold in OS-10-001 at Osiris.
Anubis Discovery Area and Regional Targets
A second broad target area for Carlin-type mineralization was drill-confirmed in late 2012 at the Anubis discovery located 10 km to the west of the Osiris area. Anubis has a similar surface geochemical signature and associated structural controls for gold mineralization as seen at the Osiris area. Highlights include:
--  The Anubis area is located within a 600 m long arsenic/gold geochemical    anomaly; and,--  The Anubis discovery hole AN-12-001 intersected 8.51 m of 19.85 g/t gold    and remains open along strike and down-dip.