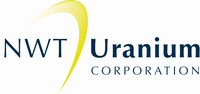 TORONTO, ONTARIO -- (Marketwired) -- 04/08/13 -- NWT Uranium Corp. (the "Corporation") (TSX VENTURE: NWT)(FRANKFURT: NMV) would like to announce that, pursuant to the Policy 5.2 - Changes of Business and Reverse Takeovers of the TSX Venture Exchange, the Corporation has changed its business from a Mining Issuer to a Investment Issuer. In connection with its change of business, the Corporation will be seeking shareholder approval at a special meeting of shareholders to be held at a future date.

As the change of business ("COB") has already occurred, the Corporation will not be acquiring any assets in connection with the COB. As of today's date, the Corporation has acquired, directly or through its wholly owned subsidiary, Nikeco Co. Ltd., an aggregate of 88,289,171 common shares of various public issuers, of which 52,783,339 common shares are those of URU Metals Limited (formerly Niger Uranium Ltd.)

For the nine months ending December 31, 2012, the Corporation had current assets of $9,885,425 and current liabilities of $3,157,068 for working capital of $6,728,357. As such, the Corporation has necessary working capital to fund its current business and finance future investments in public issuers.

Description of New Business

As an Investment Issuer, the Corporation will focus its resources on investments in other companies. The investment objective of the Corporation will be to provide its shareholders with long-term capital growth by investing in a diversified portfolio of public companies and commodities.

Investment Strategy

The Corporation's investment strategies will include investments in (i) public companies, (ii) near public companies and private capital, (iii) global venture capital initiatives and (iv) strategic physical commodities.

The Corporation will invest in concentrated, long-term positions in public companies. The Corporation may invest in securities of issuers in special situations, including event-driven situations such as corporate restructurings, mergers, hostile takeovers, bankruptcies or leveraged buyouts. The Corporation may also invest in (i) public companies where there is an opportunity to invest to gain control over the strategic direction of such public company, thereby fully exploiting the corporate structure to execute opportunistic transactions which would otherwise be unavailable, such as take-over bids using publicly-traded securities as currency, (ii) accretive acquisitions of similar structures, and (iii) public and private companies that would otherwise be problematic to accommodate in a fund structure with short term redemption features.

The Corporation's investment strategy will also include structuring and initiating deals focused on particular resources, themes, or regions as well as launching the development of businesses in select industries by providing assistance with the hiring of management teams, providing seed capital and facilitating the transition of such private companies to the public market.

The Corporation may take positions in strategic commodities which it believes have strong long term fundamentals and which otherwise are difficult to gain exposure to. Investments may be structured as direct physical purchases or off-take contracts.