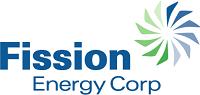 KELOWNA, BRITISH COLUMBIA -- (Marketwired) -- 04/05/13 -- FISSION ENERGY CORP. ("Fission" or the "Company") (TSX VENTURE: FIS)(OTCQX: FSSIF) and its Limited Partner, the Korea Waterbury Uranium Limited Partnership ("the Waterbury Consortium"), are pleased to announce that the Winter 2013 drill program on its Waterbury Lake property is now complete. A total of 68 drill holes and 11 restarts were completed comprising 21,012.9 meters. The program focused on the delineation and growth of the J Zone. Drilling was segregated into areas A, B and C within the J Zone (see attached map) and the primary objective was expansion of the zone both west and north of the known mineralized area. Area C drill results recorded significant mineralization in several holes, including widths of up to 22.5m (WAT13-346).

Highlights of the program include:


--  68 drill holes were completed, in a total of 21,012.9 meters--  Mineralization was found in 35 holes or 51% of the holes in the program--  All holes were targeted to further delineate and expand the mineralized    area of the J Zone covering all 3 areas (Area A, B and C)--  Area C: WAT13-346 (line 500W) intersected a 22.5m wide interval (196.0m    - 218.5m) of weak to strong radioactive mineralization, including a 0.1m    interval of off-scale (greater than 9999 cps) radioactivity
J Zone Area A:
Area A is the eastern most section of the J Zone located between lines L120E and L210W. A total of 20 holes were drilled in this region of which 5 were mineralized, intersecting weak to off-scale radioactivity. Drilling in Area A focused on testing for the extension of basement hosted mineralization adjacent to Rio Tinto's Roughrider deposit and further delineating the northern boundary of the J Zone for unconformity associated mineralization.
Area A drill hole highlights:
--  WAT13-359 (line 070E) was drilled along the eastern boundary of the J    Zone and intersected a 4.0m wide zone (209.5 - 213.5m) of weak to off-    scale basement hosted radioactivity, including a 0.1m interval of off-    scale (greater than 9999 cps) radioactivity. Two subordinate zones of    weak to moderate basement hosted radioactivity occurred to a depth of    226.5m.--  WAT13-345 (line 150W) intersected a 12.0m wide zone (184.5 - 196.5m) of    weak to moderate uranium mineralization straddling the unconformity    (190.0m). This intersection extends the J Zone boundary approximately    10m to the north on line 150W--  WAT13-373 (line 120W) intersected a 3.0m interval of weak to moderately    radioactive basement mineralization 45m to the north of the current    delineated boundary. This intersection represents the northernmost    mineralized intersection of the J Zone.
Hole Summary for Area A:
----------------------------------------------------------------------------                                              (i) Mineralization                                            (greater than 300 cps/                      Collar                     1.0M minimum)                ------------------------------------------------------------                  Grid                        To  Width                  CPSArea  Hole ID     Line    Az   Dip   From    (m)    (m)             Max Peak----------------------------------------------------------------------------A     WAT13-343   135W   186   -79        No Anomalous Radioactivity----------------------------------------------------------------------------A     WAT13-345   150W   167   -86  184.5  199.5   15.0 less than 300 - 3300----------------------------------------------------------------------------A     WAT13-348   105E   178   -86  291.5  295.0    3.5 less than 300 - 420                                    303.5  306.0    2.5           400 - 3000----------------------------------------------------------------------------A     WAT13-351   090E   177   -79        No Anomalous Radioactivity----------------------------------------------------------------------------A     WAT13-353A  105E   145   -87        No Anomalous Radioactivity----------------------------------------------------------------------------A     WAT13-356   075E   168   -86  206.5  209.0    2.5 less than 300 - 353----------------------------------------------------------------------------A     WAT13-359   070E   174   -80  209.5  213.5    4.0   370 - greater than                                                                        9999                                    219.0  220.0    1.0            350 - 420                                    225.0  226.5    1.5            360 - 980----------------------------------------------------------------------------A     WAT13-362   060E   185   -76        No Anomalous Radioactivity----------------------------------------------------------------------------A     WAT13-365   045E   179   -83        No Anomalous Radioactivity----------------------------------------------------------------------------A     WAT13-367   045E   167   -75        No Anomalous Radioactivity----------------------------------------------------------------------------A     WAT13-370   035E   181   -76        No Anomalous Radioactivity----------------------------------------------------------------------------A     WAT13-372   025E   178   -74        No Anomalous Radioactivity----------------------------------------------------------------------------A     WAT13-373   120W   181   -77  213.5  216.5    3.0 less than 300 - 3800                                    221.0  222.0    1.0            312 - 370----------------------------------------------------------------------------A     WAT13-375   105W   179   -77        No Anomalous Radioactivity----------------------------------------------------------------------------A     WAT13-376    000   178   -82        No Anomalous Radioactivity----------------------------------------------------------------------------A     WAT13-379   085W   172   -81        No Anomalous Radioactivity----------------------------------------------------------------------------A     WAT13-381   080W   188   -75        No Anomalous Radioactivity----------------------------------------------------------------------------A     WAT13-384   105W   183   -81        No Anomalous Radioactivity----------------------------------------------------------------------------A     WAT13-387   150W   180   -81        No Anomalous Radioactivity----------------------------------------------------------------------------A     WAT13-389B  175W   179   -77        No Anomalous Radioactivity--------------------------------------------------------------------------------------------------------------------------                   Unconformity          Total                          Depth          DepthArea  Hole ID               (m)            (m)----------------------------------------------A     WAT13-343           210.3          284.0----------------------------------------------A     WAT13-345           190.0          260.0----------------------------------------------A     WAT13-348           197.1          332.0----------------------------------------------A     WAT13-351           199.9          290.0----------------------------------------------A     WAT13-353A          198.4          320.0----------------------------------------------A     WAT13-356           200.9          263.0----------------------------------------------A     WAT13-359           203.2          299.0----------------------------------------------A     WAT13-362           204.1          299.0----------------------------------------------A     WAT13-365           199.7          299.0----------------------------------------------A     WAT13-367           209.7          299.0----------------------------------------------A     WAT13-370           213.9          293.0----------------------------------------------A     WAT13-372           209.0          299.0----------------------------------------------A     WAT13-373           203.9          299.0----------------------------------------------A     WAT13-375           201.5          299.0----------------------------------------------A     WAT13-376           203.5          329.0----------------------------------------------A     WAT13-379           198.9          299.0----------------------------------------------A     WAT13-381           208.5          299.0----------------------------------------------A     WAT13-384           198.8          299.0----------------------------------------------A     WAT13-387           195.3          299.0----------------------------------------------A     WAT13-389B          194.0          299.0----------------------------------------------(i) Scintillometer Instrument: GR-110G