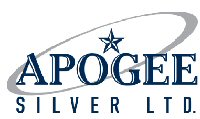 TORONTO, ONTARIO -- (Marketwired) -- 04/05/13 -- Apogee Silver Ltd. (TSX VENTURE: APE) ("Apogee" or the "Company") has closed a private placement offering (the "Offering") of 70,370,000 Units of the Company ("Units"), at a price of $0.05 per Unit, for aggregate gross proceeds of $3,518,500, subject to final approval from the TSX Venture Exchange (the "TSXV").

Each Unit consists of one common share of the Company (a "Common Share") and 0.6 of a purchase warrant, with each whole Warrant entitling the holder thereof to purchase one Common Share at an exercise price of $0.10 per share for a period of 36 months following the closing of the Offering.

Neil Ringdahl, Chief Executive Officer, commented: "Apogee is pleased to complete this successful private placement in very difficult market conditions. We believe this reflects the quality of the resource assets and near-term production potential of our Pulacayo project. Subsequent to our successful trial mining and toll milling (processing) operations (see press releases dated January 15, 2013 & March 1, 2013), we believe we are well positioned to increase production to over 2,500 tonnes per month using a newly trained mining team sourced from local communities. Our mining and processing activities will continue to be conducted under the Company's mining environmental license with full community support.

"This funding provides Apogee with the opportunity to ramp up current mining and toll processing activities with the aim of the Company becoming cash positive within the next 12 months. It also provides sufficient time for the Company to select an attractive funding option for our larger 1,000 tonnes per day mining and milling production plan that was outlined in the recently disclosed positive feasibility study (see press release dated 17 January, 2013)."

The Offering was completed with both brokered and non-brokered tranches. The Units sold through the brokered tranche were sold pursuant to an agency agreement between Apogee and D&D Securities Inc. (the "Agent").

The Agent will be paid a corporate finance fee equal to 2.5% of the aggregate proceeds of the Offering payable in Units (being approximately 1,759,250 Units) plus compensation options (the "Compensation Options") equal to 2.5% of the aggregate Units subscribed for (being 1,759,250 Compensation Options). Additionally, sub-agents were paid a cash commission equal to 6% (being $96,390) plus Compensation Options equal to 3% of the aggregate proceeds received from the brokered tranche of the Offering (being 963,900 Compensation Options). Each Compensation Option entitles its holder to acquire a Unit that will be exercisable for a period of 24 months from closing at a price of $0.05 per Unit. In addition, the Company will also pay aggregate referral fees equal to $57,000 plus 570,000 Compensation Options in relation to the non-brokered tranche of the Offering.

In order to maximize the proceeds of the Offering, the Company has also entered into agreements dated April 4, 2013 with certain service providers (the "Service Providers") of the Company to settle debts owed by the Company to the Service Providers through the issuance of Units, rather than cash payments. Subject to the receipt of approval from the TSXV, the Company proposes to issue an aggregate of 3,720,000 Units to the Service Providers, in lieu of the $186,000 that is owing.

All of the securities issued in connection with this placement are subject to resale restrictions which expire on August 5, 2013. The financing remains subject to receipt of final approval from the TSX Venture Exchange.

The Company intends to use net proceeds to continue the development of its key projects situated in Bolivia and for working capital purposes.

Independent Qualified Persons

Professor Jim Porter is a Fellow of the Southern African Institute of Mining and Metallurgy and Director of the Centre for Mechanised Mining Systems at the University of the Witwatersrand and is a Qualified Person as such term is defined in National Instrument 43-101 and has reviewed and approved the technical information and data in this press release.

About Apogee Silver Ltd

Apogee Silver Ltd. is a mineral exploration and development stage company listed on the TSX Venture Exchange under the symbol APE. Apogee targets advanced silver-zinc-lead projects in South America that demonstrate potential to be developed to production. Currently its projects are located in the historic silver producing regions of southwest Bolivia and northern Chile. There are currently 301,066,809 common shares of Apogee issued and outstanding.

Its most advanced project is the 100% controlled Pulacayo-Paca project in Bolivia. This project includes the property that covered the second-largest silver mine in the history of Bolivia with a historical estimate of over 600 million ounces of past production.

On Behalf of Apogee Silver Limited,


Neil T. Ringdahl G. Scott PatersonChief Executive Officer Chairman
Cautionary Note Regarding Forward-Looking Information:
This press release may contain "forward-looking information" or information deemed to be forward-looking within the meaning of applicable Canadian securities legislation. Forward-looking information includes, but is not limited to, statements about the results of Apogee's technical reports and the development potential of the Company and/or its projects; the timing and amount of future exploration and development of its projects; and the future financial or operating performance of the Company and/or its projects. Generally, forward-looking information can be identified by the use of forward-looking terminology such as "plans", "expects" or "does not expect", "is expected", "budget", "scheduled", "estimates", "forecasts", "intends", "anticipates" or "does not anticipate", or "believes", or variations of such words and phrases or state that certain actions, events or results "may", "could", "would", "might" or "will be taken", "occur" or "be achieved". Forward-looking information is subject to known and unknown risks, uncertainties and other factors that may cause the actual results, level of activity, performance or achievements of the Company to be materially different from those expressed or implied by such forward-looking information, including but not limited to: general business, economic, competitive, geopolitical and social uncertainties; the actual results of current exploration activities; other risks of the mining industry and the risks described in the annual information form of the Company. Although the Company has attempted to identify important factors that could cause actual results to differ materially from those contained in forward-looking information, there may be other factors that cause results not to be as anticipated, estimated or intended. There can be no assurance that such information will prove to be accurate, as actual results and future events could differ materially from those anticipated in such statements. Accordingly, readers should not place undue reliance on forward-looking information. The Company does not undertake to update any forward-looking information, except in accordance with applicable securities laws.


Contacts:
Apogee Silver Ltd.
Marilia Bento
Vice President Corporate Development
+1 (416) 309-2694
info@apogeesilver.com

Apogee Silver Ltd.
Neil T. Ringdahl
Chief Executive Officer
+1 (647) 339-4484
info@apogeesilver.com
www.apogeesilver.com