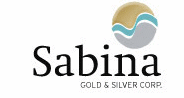 VANCOUVER, BRITISH COLUMBIA -- (Marketwired) -- 04/30/13 -- Sabina Gold & Silver Corp (TSX: SBB) ("Sabina" or the "Company") is pleased to announce initial drilling results from its 2013 exploration program on its 100% owned Back River project in Nunavut and announces the adoption of an Advance Notice Policy (the "Advance Notice Policy").

"Drilling is going very well at our Back River Gold Project and we are off to a good start with some impressive results at Llama and George," said Rob Pease, President & CEO "To facilitate our commitment to aggressively advance the development of Back River, our 2013 program is focussed on work to complete the on-going pre-feasibility study (PFS) and to support a potential subsequent feasibility study (FS) and completion and filing of a draft environmental impact statement ("EIS") by year end. We believe in the long term outlook of our assets and our sector and will keep working to create shareholder value despite a challenging market sentiment. The Board of Directors has also adopted an advance notice polity to ensure that all shareholders are provided with adequate notice of board nominees. We look forward to providing further updates throughout the year."

Back River

After an early seasonal start up in mid-February drilling at Back River is proceeding as planned with five drill rigs running at the Goose project area and three at George.

In the Goose project area, drilling at Llama is currently focussed on converting resources to the measured and indicated category in the proposed pit. Drilling at Llama is progressing well and continues to demonstrate confidence in supporting strong zones of shallow high grade gold mineralization amenable to open pit extraction.

A total of 30 out of 33 holes are now complete with the intention of converting a significant portion of the mineralization to the measured category. Highlights supporting this process includes holes 13GSE263 returning 19.65g/t over 5.13m, 13GSE269 returning 1572g/t over 0.90m and 8.29g/t over 24.40m, and hole 13GSE271 returning 9.66g/t over 25.00m.

Two priority exploration targets at the Goose project area include; Boomerang, a shallower target located southwest of the Goose Main deposit where indications of favorable structure and alteration indicate potential for mineralization, and the Wing zone, located close to the Llama deposit, where drilling from 2012 intersected encouraging gold values from a number of drill holes including drill hole 12GSE226 which returned 12.68 g/t over 15.45 m. Drilling on the Wing zone is underway and Boomerang target drilling will commence once infill drilling is complete.

George Extension Drilling Success

At the George project area, seven drill holes have been completed. Drilling is planned to focus on exploration of new mineral zones, extensions to existing mineralized zones and completion of a geo-mechanical drill program at the Locale 1, 2 and LCP deposit areas.

Drilling at George is currently focused on better defining mineralized extensions at the Local 2 deposit and is testing high potential extension gold targets close to the existing resources. Initial success in extensional drilling is now confirmed with the return of positive gold results at both the Locale 2 Gap and the Locale 2 Hinge targets. Highlights from this portion of the program include the first hole at the Locale 2 Hinge target, 13GRL095, returning 7.43g/t over 9.00m and an additional 9.35g/t over 7.75m further down hole. Success at the Locale 2 Gap target includes holes 13GRL097 returning 5.53g/t over 5.10m and 13GRL098 returning 9.00g/t over 3.80m. Drilling continues with three diamond drill rigs at the George property on priority targets with further preparations being made for a near term transition to brownfields exploration target follow up from significant successes in 2012.