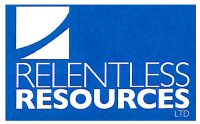 CALGARY, ALBERTA -- (Marketwired) -- 04/30/13 -- Relentless Resources Ltd. (TSX VENTURE: RRL) ("Relentless" or "the Company") announces that it has filed its audited annual financial statements for the year ended December 31, 2012, the accompanying management's discussion and analysis, and the Form 51-101F1 Statement of Reserve Data and Other Oil and Gas Information of Relentless Resources Ltd., for the year ended December 31, 2012 (the "Report on Reserves Data"), as mandated by National Instrument 51-101 Standards of Disclosure for Oil and Gas Activities ("NI 51-101"). All these filings are available on SEDAR under the profile of Relentless at www.sedar.com.

Message to Shareholders

The year 2012 was an extremely challenging time for the oil and gas industry in Western Canada. Low natural gas prices and deep oil pricing discounts continued throughout the year causing severe negativity in the public market place. Relentless Resources Ltd. ("Relentless" or the "Company") dedicated time and resources to find a joint venture partner to drill our Loverna property in order to increase the oil weighting in our production mix and to reduce capital exposure. In late 2012, Relentless secured a partner to drill two Viking horizontal wells on the Loverna property. Relentless raised $800,000 in flow through funds for a 30% cost share of the wells while retaining 51% of production from the two wells.

The Loverna 191/15-06-031-28W3/00 and 191/06-06-031-28W3/00 wells were drilled, completed and put on production late in the first quarter of 2013. The new well results are disappointing with the 191/15-06 well currently producing 25 bopd gross (13 bopd net) while the 191/06-06 well continues to recover load fluid. Field estimated Relentless March Corporate production was 75 boed (50% oil and liquids) with 35 net bopd from Loverna.

Relentless has 100% working interest in the offset contiguous section which remains prospective for Viking horizontal wells. The geological model for the Viking formation on Relentless lands remains intact. In 2013, Relentless will continue to works towards full development of the Loverna Viking oil pool. Relentless has two additional licensed horizontal drilling locations and a minimum of six unlicensed drilling locations identified to develop the Loverna property with a drilling density of eight horizontal wells per section.

In 2012, Relentless essentially maintained production and revenues compared to 2011 while incurring minimal capital expenditures. Cash costs were marginally higher in 2012 than in 2011 with 2012 general and administrative costs approximately 20% lower than 2011. We remain committed to maintaining balance sheet strength. During 2013, Relentless plans to use free cash flow to pay down the Company's operating line.

Management will continue to enhance shareholder value by remaining receptive to possible business combinations, reducing the cost structure where possible and looking for new opportunities to build production and cash flow. In this regard, the Company has been evaluating a plethora of acquisition opportunities. To assist our objectives, the Company is looking to expand the current Board of Directors in the near future.