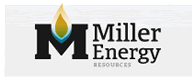 ANCHORAGE, AK -- (Marketwired) -- 04/30/13 -- Miller Energy Resources, Inc. ("Miller" or "the Company") (NYSE: MILL) today announced certain operational updates regarding progress and plans for the RU-2, Otter #1 and Olsen Creek #1 wells, along with details on recent acquisitions and its plans to sell gas from the Cook Inlet.

RU-2 Update

Cook Inlet Energy, LLC ("CIE"), Miller's wholly owned operating subsidiary, has begun the work-over of the RU-2 well from the Osprey platform. The work-over called for abandoning the compromised portion of the wellbore followed by sidetracking the well to a similar and favorable bottomhole location. The de-completion and abandonment of the compromised section of the well went as planned and was followed by setting the whipstock and milling a window through the 9-5/8" casing. Thirty percent of the new hole has been directionally drilled to a depth of 10,372 feet with a projected total depth of 15,451 feet. New well logs generated by this sidetrack are closely following and similar to those produced when the RU-2 well was first drilled in 2002. RU-2 was originally put on production December 14, 2002 and had a historical initial production rate of approximately 2,000 BOPD with cumulative production of 462,000 barrels of oil. A third party reserve report shows net oil reserves of 949,000 barrels and a NPV-10 of $58.8 million. The Company estimates that the remaining portion of the work-over procedure will take four weeks to complete.

Olson Creek #1 and Otter #1

Final road construction near the Otter #1 well pad is scheduled to be completed and available for a rig move during the month of May. Preparations are being arranged to thaw rig-34 components from its winter stack on the pad and an expected spud date on the Olsen Creek #1 well will be no later than June 15th in order to meet land owner work commitments. Miller plans to deepen Otter #1 subsequent to the completion of Olsen Creek #1.

Leased Acreage Acquisition

CIE has reached an agreement with Mental Health Land Office, increasing asset acreage over the Olson Creek prospect by 1,660 acres bringing the total to 13,421 acres. In addition, CIE has increased its Alaska oil & gas leaseholds by 40,478 acres. The new leases are located on both the West and East sides of the Cook Inlet. The leases were issued as a result of CIE's success at the State of Alaska's Cook Inlet Areawide Lease Sale in May of 2012 where CIE was the high bidder on approximately 54,084 acres. Issuance of the remaining acreage is still pending.

"We expect this additional acreage to substantially increase the possible gas reserves for CIE in the Olsen Creek prospect," explained David Hall, CEO of Cook Inlet Energy. "The company's success in increasing the size of our leaseholds here is also a welcomed addition to our core asset area."

Gas Sales

March saw the addition of Mark Slaughter, who joined CIE as Commercial Manager. Mark brings over 16 years of oil & gas operations experience in Alaska. Previously, Mark managed the gas purchases for the largest natural gas utility in Alaska.

"We welcome Mark to the team," stated Scott Boruff, CEO of Miller Energy Resources. "His extensive experience with natural gas transactions in the Cook Inlet has brought immediate benefits to the company. As the direct result of his efforts, we are currently in negotiations with multiple buyers for contracts. We expect to have our first commercial gas sales sometime in May and to achieve our goal of up to 2 MMCF/day in gas sales from existing producing wells."