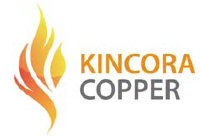 VANCOUVER, BRITISH COLUMBIA -- (Marketwired) -- 04/30/13 -- Kincora Copper Limited (the "Company", "Kincora") (TSX VENTURE: KCC) is pleased to announce three internal changes to its senior management team:


I. Mr. John Rickus, previously President and Chief Executive Officer, has assumed the position of Chairman.II. Mr. Jonathan (Sam) Spring, previously Vice-President of Corporate Development, has been appointed as President and Chief Executive Officer.III. Mr. Stephen Fabian, previously Chairman, has become an independent non-executive director.
Commenting on today's announcement, Stephen Fabian, former Chairman and now non-executive director, said:
"Despite significant recent progress having been made delivering upon our stated exploration, development and acquisition strategy, Kincora continues to take measures to strengthen the Company, further reduce overhead and administrative costs, align our strategy with current market conditions and planned internal activities.
In particular, the realignment of roles amongst the existing internal team reflects planned 2013 field season activities and ongoing discussions with potential strategic investors regarding technical and financial synergies.
In August last year, both John and Sam were appointed as senior executives and these announced changes are expected to optimize the board and management teams' valuable technical, commercial and financial markets experience. I look forward to continuing to work with the team in my new capacity."
About Kincora Copper Limited
Kincora Copper Limited is a junior resource company engaged in the acquisition, exploration and development of mineral properties with a focus on copper/gold projects in Mongolia.
Kincora's ambition is to be the leading listed independent copper exploration and development company in the highly prospective and proven Oyu Tolgoi South Gobi porphyry copper belt in southeast Mongolia. The Company is currently exploring its wholly owned Bronze Fox, Tourmaline Hills and North Fox projects which host an extremely large and strategically located mineralised footprint covering over 40km2.
The projects are situated only 250km from the Chinese border and within 140km of two large scale greenfield copper construction projects: Oyu Tolgoi, invested capital to date approximately US$6.6 billion and target production of up to 160,000t/ day; and, Tsagaan Suvarga, estimated capex US$1b and target production of 40,000t/ day. Other significant mines and associated infrastructure are being developed in this immediate region.
The Company is listed on the TSX Venture Exchange, was formed in mid 2011, with its head office located in Vancouver, Canada, and a regional office in Ulaanbaatar, Mongolia.
Neither the TSX Venture Exchange nor its Regulation Services Provider (as that term is defined in the policies of the TSX Venture Exchange) accepts responsibility for the adequacy or accuracy of this release.


Contacts:
Kincora Copper Limited
Sam Spring
President and Chief Executive Officer
+61431 329 345
sam.spring@kincoracopper.com
www.kincoracopper.com