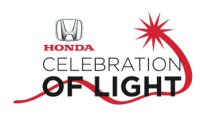 VANCOUVER, BRITISH COLUMBIA -- (Marketwired) -- 04/30/13 -- Vancouver's beaches and skies will be lit up again for the 23rd annual Honda Celebration of Light set for, July 27th, July 31st and August 3rd. This year's event will feature the United Kingdom, Canada and Thailand.

"We are very pleased with this year's lineup," said the Hon. John D. Reynolds, Chairman of the Vancouver Fireworks Festival Society. "Canada is definitely a crowd favorite, but England and Thailand will be giving them a run for their money."

The Honda Celebration of Light continues to grow thanks to the generous support from the City of Vancouver and the Vancouver Board of Parks and Recreation; Title Partner Honda; Major Partners The Keg Steakhouse and Bar, Concord Pacific and Shore 104.3 FM; as well as Community partners Tourism Vancouver, the Vancouver Airport Authority, Red Bull, The Vancouver Hotel Destination Association, Seaspan and Shaw.

"Honda Canada is very happy to continue its support of the festival," said Jerry Chenkin, executive vice president, Honda Canada Inc. "The event is enjoyed by all walks of life and we are thrilled to be back as the title sponsor."

"The Honda Celebration of Light is a signature summer event for so many people and continues to be one of Vancouver's most popular festivals," said Mayor Gregor Robertson. "The event is as a major tourism driver and provides a huge boost to businesses in our vibrant local economy."

The festival has been generating some impressive awards in the off-season, winning Best Festival in Canada at the 2012 Canadian Special Event Awards in Toronto and receiving Gold from the Sponsorship Marketing Council of Canada. This year, festival organizers are raising the bar yet again with a host of additional attractions and activities. Here's what to look for at this year's festival:

Fireworks

The 2013 Honda Celebration of Light competition will begin promptly at 10:00pm over English Bay, rain or shine, with barges generously donated by Seaspan. Music simulcast can be heard on SHORE 104.3 FM. The winning country will be announced Monday, August 5th.


--  July 27 - United Kingdom; United Kingdom Pyro 2000 www.pyro2000.co.uk--  July 31 - Canada; Canada Fireworks Spectaculars    www.fireworksspectaculars.com--  August 3 - Thailand; Thailand Fireworks - thailandfirework.net
SHOREfest presented by Shore 104.3 FM
The SHOREfest concert series at English Bay and Sunset Beach returns with free performances by Juno Award winner Serena Ryder and many more. Organizers also plan to include cultural entertainment from the competing countries each night at the Sunset Beach stage.
The Keg Lounge
The temporary Keg Lounge presented by The Keg Steakhouse and Bar will be located on top of the Bath House Roof at English Bay. The Keg Lounge offers guests prime viewing opportunities, delicious food offerings, and intimate music experiences from the English Bay SHOREfest stage, including Juno Award winner Serena Ryder. Proceeds from The Keg Lounge benefit the not for profit Vancouver Fireworks Festival Society. Tickets are $129 - on sale now at
www.HondaCelebrationofLight.com
.